Russia says 'Thank you' for rescue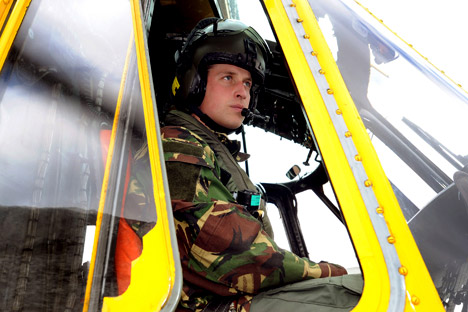 Russia has expressed its thanks to Prince William for helping to rescue two shipwrecked sailors from the sunken Swanland vessel in the Irish Sea. Source: Reuters/Vostock-Photo
Gratitude has been expressed for British air-sea rescue efforts following the sinking of the Russian-crewed cargo ship Swanland in the Irish Sea.
The Russian Ambassador to the UK, Alexander Yakovenko, has written a letter to the Duke of Cambridge praising his role in saving the lives of two Russian seamen, following the sinking of the cargo ship Swanland in the Irish Sea off the Llyn peninsula in North Wales.
Mr Yakovenko wrote:
"Your Royal Highness,


All day long we were anxiously following the rescue operation searching for Russian seamen from the sunk Swanland vessel.


"We know that you took an active part in the rescue and that the two seamen were saved thanks to your selfless effort under the bad weather conditions.


"Let me express to you and your colleagues my deepest gratitude for saving the lives of the Russian citizens."


In his role as an RAF Search and Rescue helicopter co-pilot, the Duke was part of a crew which flew from their base in Anglesey in response to the Swanland's distress call in the early hours of Sunday, November 27.


The operation involved four helicopters and seven coast guard vessels, but their work was hampered by severe weather conditions. Two of the eight all-Russian crew were pulled from the water clinging to liferafts; a third man was recovered from the sea but pronounced dead.


The 265ft Swanland was carrying 3,000 tons of limestone from Llanddulas to the Isle of Wight when it was hit by what the men described as an "enormous wave".


At the time of going to press, the operation to find the five men still missing was carrying on, although hopes for their safe recovery were 
beginning to fade.
All rights reserved by Rossiyskaya Gazeta.