Are Russian restaurants competitive?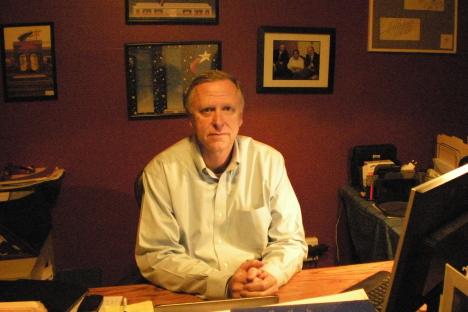 Starlite Diner's Shawn McKenna: "Russian restaurants can indeed be competitive with their American or European counterparts!" Source: Press Photo
Starlite Diner's Shawn McKenna explained the reasons why he decided to work in Russia in an interview to RBTH
Over the many years Starlite Diner's Shawn McKenna has been working in Russia, he has come to understand the peculiarities of the country's restaurant market. He spoke with Pavel Koshkin of Russia Beyond the Headlines about his customers, his Russian colleagues and what effect WTO entry will have on the country.

Russia Beyond the Headlines: The first Starlite restaurant opened in Moscow in 1995. Why did you choose Russia as a place of doing business given the fact Russian market has been pretty dangerous and unstable? What major problems did you face? How did you cope with them?
Shawn McKenna's profile

-Former Sales and Marketing Manager with Procter & Gamble
-Current Director of Starlight Development Overseas Ltd. (a.k.a. Starlite Diners)
-Current Board Member of the University of Maine School of Business
Shawn McKenna: The original Founders of Starlite were all either living in or had significant experience in Moscow prior to 1995, so we already knew the reality of the marketplace. The problems that we faced were typical of a society and commercial environment in transition. Laws were hard to understand and in some cases (per se) would be announced at a particular date but then be back dated to some period of time, which almost automatically meant you were in violation by the time you read the formal adoption of the ruling. To manage that, we really researched what was pending and in some cases, if we felt it would enacted into law, we would try to be ahead of the law and operate within it.

RBTH: Do you think that Russia is a good place for doing business now? In this context, what impact will Russia's accession to the WTO have on the investment climate in Russia? To what extent it will increase a flow of investment to Russia?
S.M.: We do think that Russia is a good climate for business and investment. If you look at the country of Russia as a stock, if you line up the critical areas of a stock for comparison, then Russia would rank highly, it would probably be a "buy!" Yes, there are barriers, like infrastructure but I always say, over time with money and some luck you can fix infrastructure, but you can't magically create natural resources.
The WTO question should be left to people who look at that kind of issue for a living, but from our point of view, we have to first recognize that anything that helps Russia helps us. This should decrease the risk factors of trade, treaty or historical issues that create economic anomalies. Less uncertainty (in these uncertain times) makes this a more investment-worthy environment. Over time, I think signing the WTO Treaty will help Russia, will help the Russian consumer and will force less competitive businesses to retool or rethink their directions. As well, it moves another political issue out of the way, as Russia believes this should have been attended to years ago.

RBTH: Although McDonalds, Wendy's and other American food chains are thriving in Russia and collaborating with local Russians partners, Papa John's is too reluctant to work with its Russian counterparts because they don't meet their requirement. Could you comment this issue?
S.M.: Most successful companies have well-thought-out strategies and requirements. If a company comes to a market and has certain standards that they won't compromise on, then that is their business. We are not one of these large multinational corporations, we have to adapt more aggressively to the local market. The advice I have to anyone coming in to start a business is to find a reliable partner. The term "reliable" is the tough part, not just for entering Russia but for many countries. This though is a tough place to operate without solid, well educated and instinctive local partner (s).

RBTH: The Starlite restaurants are located primarily in Moscow. Do you think you should work on expanding your chains in other regions?
S.M.: Actually we focus on Moscow. We continually look at the decision before we open another store. We ask the question: "Is this next store in Moscow going to be more successful then the first store someplace else?" And if not, is the risk and cost of leaving our comfort zone worth the expansion to the target city under consideration? In 2012, we will expand to other regions, but we are looking for a very strong franchise or licensed partner.
RBTH: To what extent are Russian food chains and restaurants are competitive with their American counterparts? Have you ever tried to collaborate with them?
S.M.: Russian restaurants can indeed be competitive with their American or European counterparts! We have many expat and Russian customers who have traveled to America that eat in our diners and tell us that in many cases their experience in our American-style diners in Moscow is better then what they experienced in a diner in the States. We also are involved in a steakhouse and bar called Chicago Prime. We hear quite often that the steak we serve is better at Chicago Prime then most steak restaurants in America, and I personally believe that, too. We have been approached by international chains, but for now we happily reside in the business category of a small-to-mid-sized chain with a strong reputation and high awareness factor. This comes with the territory after you have established and grown organically for 15 years.
All rights reserved by Rossiyskaya Gazeta.