Milner eyes Indian Internet assets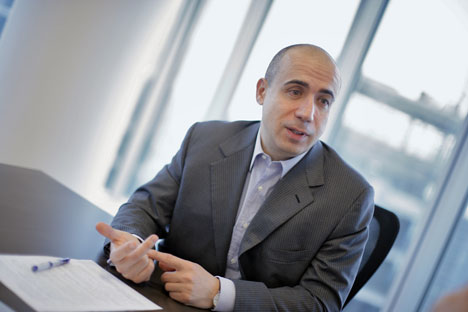 Yuri Milner, the world's most successful investor in social media and a top Russian entrepreneur. Source: AP
After big-ticket conquests in the Silicon Valley, Yuri Milner, the world's most successful investor in social media and a top Russian entrepreneur, is now turning his gaze at Indian portals
Yuri Milner, a top Russian entrepreneur and venture capitalist known for his conquests in the US' Silicon Valley, is in talks over acquiring a slew of Indian Internet companies. According to some Indian media reports, Milner is looking to invest $100-200 million. Milner's investment company Digital Sky Technologies (DST) Global has approached the Flipkart online retailer and Just Dial, a leading local Internet search company. A spokesperson for Just Dial, however, told Marker that it was no longer seeking investors. It seems Milner and his managers will have to be as insistent and pushy here as they were in Silicon Valley.
DST's biggest office
In April 2011, DST Advisors – the company managing the DST funds – opened an office in Hong Kong. In August, the DST team set up base on the 67th floor of Two International Finance Center (88 floors, 415 metres high), the firm's biggest office so far. The centre, which is the second-tallest building in Hong Kong and 18th in the world, is home to offices of major western companies, including Apple, Bank of America, and UBS, as well as DST counterparts such as Silver Lake Partners. "From its new perch, the team is studying opportunities across Asia, including China, India, Indonesia and South Korea," John Lindfors, the office head and a former Goldman Sachs banker, said in a recent comment to the New York Times. Over the next five years, DST expects to devote 40% of its capital to the growing Asian market.
The firm has already started acquiring assets in China. This year, the DST has invested $500 million in the 360buy.com online trader (dubbed the Chinese Amazon), and in September, it acquired a 5% stake in the local Internet giant Alibaba.com as part of an investor group – the deal amounted to $ 1.6 billion. Furthermore, in August, Milner, the founder of Mail.ru Group, the largest Internet company in the Russian-speaking world, personally put money into Innovation Works. Milner and his colleagues invested about $180 million in IW – the first U.S. dollar investment fund catering exclusively to early-stage Chinese Internet start-ups.
Targeting Mumbai, Bangalore
According to Indian VCCircle, DST is offering to invest $100 million in the Indian portal, Just Dial. Just Dial, established in 1996, processes around 100 million phone enquiries and 80 million online enquiries annually. A directory of about 6 million companies, Just Dial makes money on advertising. Justdial.com is among the Top-40 Indian portals, according to comScore.
Big American investment firms, such as Tiger Global Management and Sequoia Capital India, as well as SAIF Partners, a major Asian fund, already have interests in the project. These firms sold some of their assets during Just Dial's summer IPO, when the company was valued at around $500 million. "We are not seeking additional investments at the moment," Sonia Joshi, a spokesperson for Just Dial, told Marker. She also said that the company was not commenting on the speculations regarding DST.
According to sources quoted by VCCircle, Milner's fund is also poised to invest in online retailer Flipkart, which is looking to raise $150-200 million. The firm is reportedly eyeing a valuation of around USD 1 billion. Just like the American Amazon, Flipkart started with retailing books and it now has a similar design – it was established in 2007 by a former employee of the Indian Amazon office. Thus far, Flipkart has raised $31 million from Tiger Global and Accel Partners across three rounds of funding. Flipkart reports daily sales of 28,000 items and is rated as one of the 'Top 40' biggest portals of the country.
Advantage India
India holds even more promise for investors than China when it comes to Internet penetration. In China, a country of 1.3 billion people, about 500 million have access to the Internet, whereas in India, there are only 100 million Internet users out of a population of 1.2 billion people. By December 2011, India will likely achieve 121 million Internet users, according to a report by the Internet and Mobile Association of India and the IMRB research firm. The internet penetration, therefore, is going to go up every year, providing a goldmine of opportunities for investors with a global appetite like Yuri Milner.
Read more: iPhone 4S: moving ahead with GLONASS
All rights reserved by Rossiyskaya Gazeta.