The Russian aerospace defense system will become operational on 1 December.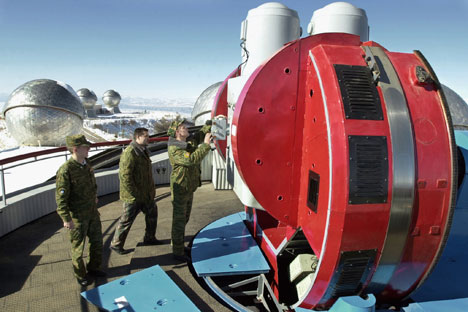 Cosmic space elecrooptical control complex. Source: ITAR-TASS
Russian Defense Minister Anatoly Serdyukov told a Defense Ministry collegium that a new branch of the Russian armed forces – the Aerospace Defense Forces (ADF) – would be established by early December. According to him, the new branch will combine the capabilities of air defense and ballistic missile defense, missile early warning systems and space monitoring.
"This system integration will allow for intercepting any targets at any speeds, including hypersonic, in the air and in space," Serdyukov said, adding that the aerospace defense forces would have to be created by 1 December 2011.
When commenting on hypersonic targets, Serdyukov hinted strongly at the AHW (Advanced Hypersonic Weapon) glide vehicle, which was successfully tested in the U.S. in mid-November (after two failed tests). The U.S. Department of Defense said it would make use of the AHW programme results to develop Conventional Prompt Global Strike, a system of non-nuclear weapons that can deliver a precision strike anywhere in the world within a few hours of command.
The hasty establishment of the ADF and Serdyukov's attempt to explain the nonexistent force's readiness to counteract the prospective (and also still nonexistent) U.S. military development indicates nervousness among Russia's top military brass, which are trying to preserve the semblance of military parity with the U.S. and adapt to the rapidly changing technological conditions of warfare amid the current reform of the Russian armed forces and decline of the manufacturing complex. The question is what lies behind the minister's words and whether or not a new branch established in today's difficult environment will be able to confront real threats.
The air defense system is in nowhere near its best condition now, a fact openly acknowledged by the generals who are or were responsible for the safety of Russia's air borders. In 2008, Air Force Commander-in-Chief Alexander Zelin in his honest general's way called Russia's air defense situation critical. In mid-May 2011, Zelin's predecessor Anatoly Kornukov didn't conceal from reporters the fact that the capacity of the Russian air defense system was not ideal. "We have a limited capability to repel attacks by fighter aircraft and missiles. As for tactical missiles targeting Russia, I doubt that we will cope with them."
Contemporary defense doctrines of leading nations envisage warfare in space. Dozens of satellites have been used in military programmess in near-space for years. In a short time, there will be weapons in space capable of attacking targets on earth. Furthermore, most of the antimissile systems that are currently developing at a brisk pace, especially in the U.S., are expected to be deployed in space.
In this context, creating an integrated aerospace defense system is a challenge that Russia has to address today, not tomorrow. However, according to the plans of Russia's military and political leadership, the development of the ADF won't be completed until 2020.
Back in 2006, President Vladimir Putin ordered the establishment of an effective aerospace defense system as part of a special programme running through 2016.
But it took five years to overcome the administrative disagreements over who would command the new branch. Until now, the Air Force managed the air defense system, and it would like to manage the future aerospace defense system. However, the key component of this system is space and missile defense, which has not yet found its proper place in the structure of the Russian armed forces.
Anyway, it is doubtful that Serdyukov's statement about the creation of a separate aerospace defense branch will necessarily put an end to the struggle for a "sole command over air and space."
As of today, the S-400 is the only Russian weapon system with limited capabilities to strike ballistic missiles; however, it has entered service only recently, and few air defense divisions have S-400 systems in service. Igor Ashurbeyli, co-chairman of the non-departmental expert council for aerospace defense, who led the development of modern air defense and ballistic missile defense systems for a decade prior to 2011, spoke about the prospects of an S-400 upgrade and the creation of new air defense systems in an interview with RIA Novosti: "... In addition to the modernisation of the A-35 (meaning the A-135 anti-ballistic missile system, a continuation of the A-35, developed back in the 1960s – Author), a task was set to develop the S-500 (an upgrade of the S-400 system mentioned above – Author), a mobile ballistic missile defense system, in order to deploy it not only to protect Moscow, but any other area facing missile threats. When the S-500 is ready, the task of deploying a mobile, or at least portable ballistic missile defense system will be completed. It is projected to be ready by 2015. The preliminary design has been completed, and they have started developing the technical design."
It appears that despite the hopeful prospects, as of now Russia has no proper combat-ready anti-missile defense systems. The Moscow A-135 anti-ballistic missiles system mentioned by Ashurbeyli, which was made operational in 1995, is now out of date and needs its missile systems and radar units upgraded. The A-135 requires new exo-atmospheric interceptor missiles, because the 51Tb missile, which was specially developed for this purpose, was scrapped in 2002, and the currently operational 53Tb missile can only intercept targets in the atmosphere. There is also the issue of producing Russia's own advanced computer systems, including supercomputers, which are indispensable for the operation of state-of-the-art anti-ballistic missiles systems. Many military experts agree that the initiative to address current problems by using mobile systems looks promising; however, these systems have been deployed only recently and in small quantities, and the technical solutions they employ need modifications.
All things considered, one can conclude that the establishment of a separate aerospace defense branch is only the first step on the arduous path toward forming an effective Russian air and space defense system.
All rights reserved by Rossiyskaya Gazeta.