Cisco's Indian rival has come to Russia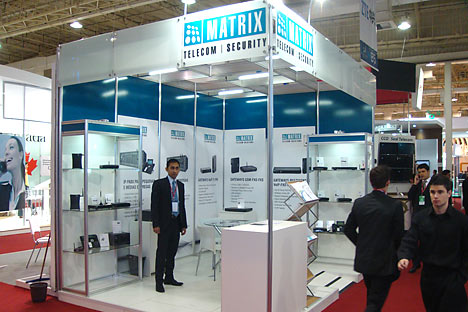 Matrix Comsec, a VoIP equipment manufacturer from India that occupies 30% of the market share in certain product categories in its home country is coming to Russia. According to experts, to obtain serious contracts the company will need to offer affordable and quality equipment.
The Indian manufacturer of IP telephony solutions Matrix Comsec is beginning work in Russia. The exclusive distributor of its products within the country will be Digital Angel, with whom the company entered into a five-year contract.
Matrix Comsec has been in India since 1991, and in addition to its home office has a U.S. office. In all, Matrix's business covers more than 30 countries. Throughout the world, the company works with distributors to supply their VoIP solutions, mainly system integrators and IP telephony providers, which, in turn, are introduced to customers. Matrix has more than 500 sales partners in total.
The main products that the company will sell in Russia will be gateways for IP telephony and user terminals, says Dave Parth, Matrix's international sales manager. The company will focus on the SMB segment, as competition in Russia's big business and public sectors is very high and is, in fact, already divided between several big players, the company says.
According to Digital Angel representative Alexei Ryzhkov, during its first year of work, Matrix equipment can count on sales of EUR 1.5 million. The company names Cisco, NEC, Siemens, Alcatel, 2N (whose equipment Digital Angel already sells in Russia), AudioCodes, and others as their competitors.
According to Matrix, at home their market share in some VoIP equipment segments reaches 30%, while in the U.S., for example, it is less than 1%.
The company Marvel-Distribution, which provides VoIP equipment from different manufacturers, noted that the market Matrix is entering is already sufficiently saturated and it will be difficult for the new player to find its niche.
Dave Parth, Matrix's international sales manager, believes that his company's best chance in Russia is in the SMB segment.
"Unquestionably, some portion of it can be won over, but it's not a significant fraction. And that's on condition that they offer quality products at low prices," says Nadezhda Pchelintseva, head of the Voice Solutions Business Unit at Marvel-Distribution. "But it's now clear that they are unlikely to be able to pull in EUR 1.5 million. I would say that an optimistic outlook for the first year is less than USD 500,000."
The undisputed leader in the SMB market, according to Pchelintseva, has been and is D-Link. But now, she says, Huawei is taking a very proactive stance and is conquering new markets with its aggressive pricing. "We shouldn't ignore the so-called "no-name" segment of the market––it's especially obvious on the IP phone market, which is literally inundated with cheap Chinese no-name devices," says the Marvel-Distribution representative.
All rights reserved by Rossiyskaya Gazeta.