Observing is okay, interfering is not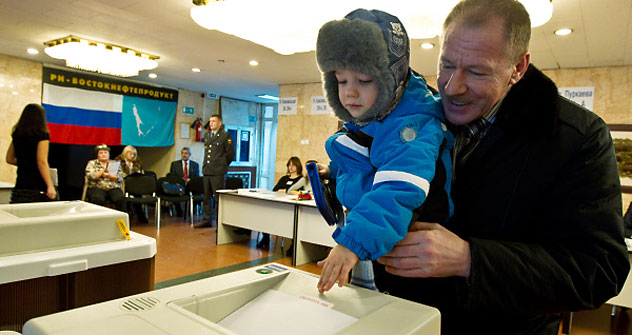 The 2011 parliamentary campaign has seen about 1,500 administrative violations and 31 criminal cases relating to the falsification of documents. Source: Kommersant Photo
The election campaign for Russia's State Duma has ended without major incidents, but many opposition groups are preparing for violations to take place on election day, Dec. 4.
Russian Central Election Commission Chairman Vladimir Churov says that the elections for State Duma will take place as scheduled on Dec. 4. Additionally, Churov said: "There won't be any kind of fraud."
According to Russian Ministry of the Interior, during the campaign for State Duma, 1,500 administrative violations were reported and 31 criminal cases on issues relating to the upcoming elections have been opened – mainly violations of campaign rules and the falsification of documents. In addition to party functionaries and local officials, criminal charges have been brought against members of the election commissions of the Saratov and Penza Regions.
It is evident that Vladimir Churov does not consider these to be extreme violations. In his opinion, more dramatic events could happen on election day itself.
"We have records of preparations for various illegal acts," Churov said, and he has requested that members of regional commissions closely monitor the situation during the vote.
Long before the election, opposition parties and movements began preparing to contest the results. The Moscow City Hall alone has received 14 claims about the execution of the events of Dec. 4, said Vyacheslav Kozlov, head of the Russian Interior Ministry's Main Directorate for the Protection of Public Order in Moscow.
Public rallies will not be prohibited on Election Day unless they are related to voting. Unauthorized activity will not be tolerated.
"Those who will try to do it are well aware that they will be detained and must be held accountable for their actions," said Vyacheslav Kozlov, deputy head of the Moscow police.
One more case may be regarding the human rights organization Golos (Voice), which, among other things, monitors violations of electoral law. Current deputies from three parties – United Russia, Just Russia and the Liberal-Democratic Party of Russia – have complained about Golos to the public prosecutor's office. They claim that the organization "grossly violates Russian electoral legislation, as well as media legislation," reported news agency Interfax. According to one of the complainants, United Russia party member Andrei Nazarov has accused Golos of involving foreign governments in Russian elections.
"Foreign organizations have become involved in Russia's domestic political affairs, mainly the U.S. National Endowment for Democracy and National Democratic Institute," said Nazarov. These organizations contribute to Golos.
Deputies are not the only ones concerned about "foreign intervention" in the elections. On Nov. 27, after being officially nominated by United Russia as its candidate for the presidential elections, Prime Minister Vladimir Putin advised Western democracies not to waste their money.
But while interfering is not allowed, observing is welcome. According to Vladimir Churov, the CEC has registered more than 650 foreign observers, including all the members of the Council of Europe Parliamentary Assembly of the Council of Europe.
All rights reserved by Rossiyskaya Gazeta.