Journalists call 2011 elections "controversial"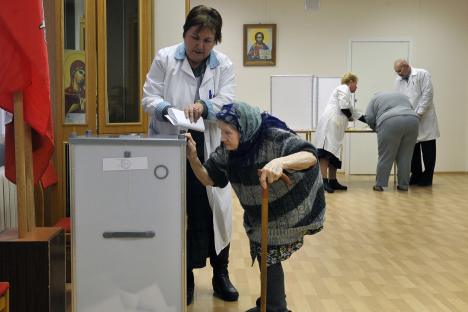 The 2011 parliamentary elections were reported to be the most controversial. Source: RIA Novosti
In the wake of the 2011 State Duma elections, Russian media focused on reported falsifications, violations and attempts to crack down public unrest. After the publication of preliminary results, journalists shifted their focus on United Russia's poor performance.
The 2011 parliamentary elections were reported to be the most controversial.

Public demonstrations
As voting took place on Dec. 4, the Russian press focused on reports of violations at polling stations and public unrest. Russian daily "Kommersant" reported that on election day opposition groups organized demonstrations in central Moscow against the elections, calling the results falsified and manipulated. Around 30 activists were detained by police officers at Red Square and around 100 people were taken from Triumfalnaya Square, although the pro-Kremlin youth group Nashi was allowed to organize demonstrations in support of United Russia.
Violations
Business daily "Vedomosti" also covered reported violations at polling stations. "The opposition is sure that yesterday's voting will go down in history as the most scandalous," read a story in "Vedomosti." The list of the violations ranges from ballot stuffing to individuals voting multiple times and using absentee ballots. Undercover journalists from Lenta.ru, Gazeta.ru and Novaya Gazeta revealed these manipulations, Vedomosti reported. In addition, the authorities made many attempts to prevent observers from detecting falsifications. They were not allowed to record or take pictures at the polling stations; additionally, some had their cameras broken.
There were also reports of officials preventing opposition observers and journalists from accessing polling stations. English-language daily "The Moscow Times" reported on this type of situation in the Bashkortostan town of Oktyabrsky. Moscow Times reporters were barred from the polling station there along with a number of opposition observers after they began complaining about violations. A reporter from "The Moscow Times" was accused of "hindering the elections process."
Coverage of the events seemed to fall along political lines with many Russian newspapers considered liberal describing the elections as the most controversial, while state-owned "Rossiiskaya Gazeta" quoted a report prepared by foreign observers that the 2011 elections had met all international standards and requirements of legitimate and fair voting.
"The Moscow Times" also reported on attacks against news organizations. "Several websites were attacked by hackers – Gazeta.ru, Echo Moskvy, The New Times and other media were subjected to DDoS attacks," read "Moscow Times" story. The website of voting rights organization Golos and that of the project Map of Violations was also unavailable, according to "Kommersant."
United Russia Plight
After preliminary results showed party of power United Russia coming in with less than 50 percent of the vote, election coverage shifted from the voting to the consequences. "Kommersant" columnist Gleb Cherkasov connected the results of the parliamentary elections to the future political career of Russian President Dmitry Medvedev. Cherkasov claimed that Medvedev will now take the head of United Russia in order to reform the party and restore its prestige after he passes the office of the presidency to current Prime Minister Vladimir Putin.
"During his presidency Dmitry Medvedev repeatedly said that he wasn't satisfied with the ruling party's plight," Cherkasov wrote. "And now he will have an opportunity to modernize the party." Yet Cherkasov puts the future reforms into question because "it is impossible to reform such organizations as United Russia." Cherkasov argued that any attempt to reform a party aimed at defending the Kremlin's priorities is likely to have negative consequences.
All rights reserved by Rossiyskaya Gazeta.