From ritual village songs to the Sugar Plum Fairy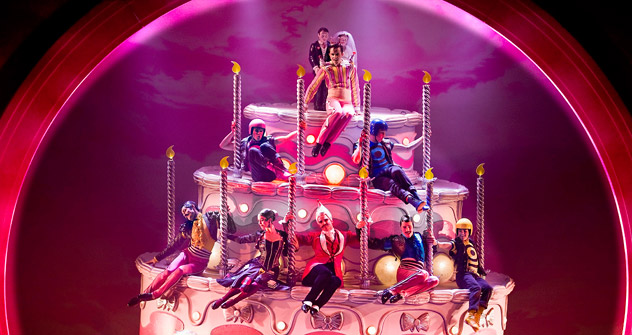 A seasonal round-up of Russian music in London. Source: Simon Annand
Russian music is coming to London for Christmas.
London is full of Russian music this Christmas. You can hear everything from balalaikas in a Camden club to Prokofiev at the Festival Hall. Churches, mansions, colleges and opera houses are humming with well-loved tunes and obscure symphonies.
Passion and energy
The ever-lively Pushkin house has several concerts and classes on its schedule: the Russian Music Company kicks off a series of master classes on December 15 and a procession of Sunday afternoon concerts are planned for 2012. The popular 'Mazaika' duo, who combine gypsy violin with haunting Russian folk songs, will be performing there on December 22. Mazaika's singer and accordion player, Igor Outkine, studied in Elektrostal and Moscow. His unconventional, musical union with violinist Sarah Harrison produces an evening full of passion and energy wherever they play. Mazaika will be celebrating the Russian Orthodox Christmas on January 6 in the Green Note club in Camden, a wonderfully atmospheric and intimate place to enjoy folk music.
Going back centuries
Always looking beyond the surface of Russian culture, Pushkin house recently invited the ethnomusicologist and performer, Polina Proutskova, to give a multimedia lecture-concert exploring traditional Russian songs. Proutskova has spent years recording the musical traditions of rural Russia, traditions which have seen a revival in recent years. Her enthusiasm for the subject is infectious; at one point in her talk, she got the women in the audience to stand and sing a ritual chant in rows in order to experience the full power of the genre.
'This was real magic; this is how the seasons were changed' says Proutskova as she brings village folksongs to life. 'Heterophony' (simultaneous variations of melody), reminiscent of orthodox religious chants, is a characteristic feature of Russian traditional music. Proutskova explained that within these traditions 'ritual singing forms the oldest layer… it goes back centuries'. She then took the audience through lyric songs, dances and official Soviet folk style to modern fusions with urban culture, including her own blends of authentic folklore with jazz and drum and bass.
Nostalgic and nonconformist Nutcrackers
There is a deep-rooted connection in the British psyche between Russian music and Christmas. It has something to do with the snowy forests that fire our imagination as well as Tchaikovsky's enduringly sweet romantic cadences; a perfect recipe.
No fewer than four very different Nutcrackers are pirouetting their way around the London stages this festive season, not to mention all those on tour around the country. The Coliseum hosts the English National Ballet (ENB) from December 8–30, which has performed The Nutcracker every Christmas since its foundation in 1950. It is fielding a new production for its sixtieth anniversary, revelling in the Edwardian nostalgia of a frost-covered, candlelit, enchanted Christmas Eve. With a balloon ride across sparkling snowscapes, crystal company Swarovski are certainly suitable sponsors. The ENB's Russian magic doesn't end with the year. 2012 is set to see a spring celebration of Diaghilev's legacy, Beyond Ballet Russe in March which will include Stravinsky's Firebird and the erotic Rite of Spring. On tour throughout May, My first Sleeping Beauty is aimed at introducing kids to ballet and plays unashamedly on the Once Upon A Dream fairy tale motifs and music made famous by Disney. And in August they will be back in the Coliseum with a lavish Swan Lake, claimed to be full of the "romance and high drama of the grand Russian ballet tradition".
Having staged Sergei Prokofiev's Romeo and Juliet for 50,000 people at the O2 Dome last summer, the Birmingham Royal Ballet are hoping to fill this massive venue again with The Nutcracker at the end of the year. The Royal Opera House is also staging The Nutcracker until January 18. It prides itself on recreating a nineteenth century Christmas as well as reviving Lev Ivanov's original choreography. You can also see Tchaikovsky's Sleeping Beauty until December 21 at the Royal Opera House, where Marius Petipa's 1890 version still holds sway. Petipa was director of the Russian Imperial ballet for more than half a century, becoming the 'chief architect of classical ballet'.
The fourth Nutcracker is a riot of sequinned high camp at Sadler's Wells where Matthew Bourne conjures up the New Adventures dance/theatre company. This production begins in a bleak, Dickensian orphanage before breaking into an ice-skating routine and the fantastical journey to Sweetieland. The performance runs until January 22.
Prokofiev Revisited
For high-brow musical connoisseurs, the London Philharmonic Orchestra is performing a series of lesser-known works by Prokofiev on the South Bank and in the Royal College of Music in January. Prokofiev was a complicated composer, a musical prodigy who fled abroad in 1918, but returned to the artistic restrictions of the Soviet Union in 1936 for his last two decades. Artistic director, Vladimir Jurowski sees this as an opportunity for people here to gain a more detailed understanding of a misunderstood man, "enriching the black and white view that tends to be held – especially in Britain". The schedule includes the world première of a lost version of Prokofiev's music for Eisentstein's 'Ivan the Terrible' and an expert panel discussion featuring the composer's grandson.
Churches and cellists
It is not only the major opera houses and concert halls that are commemorating Russian composers. Rachmaninov and Mussorgsky were performed in St James's Church in Piccadilly last weekend. St James's Church is a particularly appropriate venue for Rachmaninov's religious Vespers, which is influenced by Orthodox chants. The Collegium Musicum, which arranged the concert, has a proud tradition of bringing masterpieces of the Russian repertoire to London audiences. Shostakovich can be heard in Leighton House near Holland Park on December 7. The Leighton House benefit concert is a tribute to the memory of the great cellist, Mstislav Rostropovich. The beautiful gold and turquoise interior was once home to the 19th century artist, Frederic Leighton, whose grandfather was court physician to Tsar Alexander I. The programme includes works by Alexander Glazunov and Nikolai Myaskovsky. Imagining the Myakovsky's beautiful cello sonata played in the breath-taking Arab hall of Leighton House, with its oriental fretwork screens and Syrian tiles, softens the seventy pound donation to the Healthprom charity.
Exactly one hundred years ago, a golden statue of Anna Pavlova was first installed above the dome of the new Victoria Palace Theatre. With lots more events lined up for 2012, the love affair between the English capital and Russian music and dance looks set to continue into the future.
All rights reserved by Rossiyskaya Gazeta.