"India Pavilion" inaugurated at "APTEKA-2011" in Moscow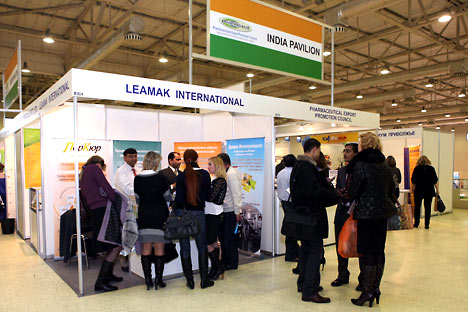 The "India Pavilion" at the 18th International Trade Fair for Pharmaceuticals and Related Products "APTEKA-2011" was inaugurated in Moscow by Ajai Malhotra, Ambassador of India to the Russian Federation. The event takes place from December 5 to 8 at the Expocenter at Krasnaya Presnya, Moscow.
Indian pharmaceutical companies took an active part in the event and constituted the largest presence amongst foreign companies at "APTEKA-2011". There were 14 firms showcasing various pharma related items: generics, alternative medicines, medical products and equipment under the umbrella of the Pharmaceuticals Export Promotion Council of India (PHARMEXCIL).
Addressing the gathering, Ambassador Malhotra recalled that the pharmaceuticals sector is one of the priority sectors for India-Russia trade and economic cooperation. The Ambassador expressed satisfaction that PHARMEXCIL is helping small and medium size pharma companies tap the Russian market and underscored the importance of their presence in it as several of them have niche products to offer.
The International Trade Fair for Pharmaceuticals and Related Products in Moscow is a leading platform for the medical-pharmaceutical industry and more than 300 exhibitors and about 12000 visitors from all over the world participate in it every year. The main purpose of the event is creating business ties between producers and manufacturers of pharmaceuticals and related products and distributors, retailers and pharmacies as well as providing information about pharmaceutical market and health care in Russia and neighbouring countries.
The "APTEKA-2011" programme includes scientific and technical conference, round tables, discussions, workshops on all medical trends. Eminent specialists, including head doctors and professors, debate on new treatment technologies. The Forum consists of the Medical and Pharmaceutical Business Conference which embraces the urgent challenges and current tendencies on pharmaceutical markets.
Many large Indian pharma companies, such as Dr. Reddy's, Lupin, Cadila, Microlabs, Wockhardt, Unique, Torrent, Glenmark, Bharat Serum, etc., already have a solid presence in the Russian market, while several Indian pharma companies are setting up manufacturing units in Russia, within the framework of the Pharma 2020 programme of the Russian Government. Companies such as Dr. Reddy's Laboratories, M.J. Biopharm Pvt. Ltd., Naprod Life Sciences Pvt. Ltd., and Ranbaxy (India), have recently concluded partnership agreements with counterpart Russian companies.
All rights reserved by Rossiyskaya Gazeta.