Manmohan-Medvedev summit: What's on agenda?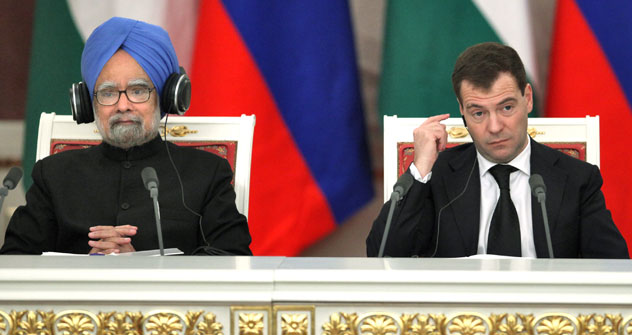 Russian president Dmitri Medvedev and Indian Prime Minister Manmohan Singh during talks in the Kremlin (7 Dec 2009). Source: Kommersant
Indian Prime Minister Manmohan Singh is set to visit Moscow for annual summit with Russian President Dmitry Medvedev Dec 16, which is expected to propel the India-Russia ties into a higher trajectory. A host of agreements, including in the field of civil nuclear energy, are expected to be signed.
Seeking to scale bilateral ties to new heights, India's Prime Minister Manmohan Singh will touch down in Moscow December 16 for a two-day visit to hold the 12th annual summit with Russian President Dmitry Medvedev. The summit is expected to impart a fresh momentum to the "special, privileged strategic partnership" between the two time-tested partners with a singing of agreements in areas ranging from nuclear energy to banking and education.
This will also be Manmohan Singh's last summit meeting with Medvedev as Prime Minister Vladimir Putin is set to reclaim the Russian presidency following the presidential polls on March 4. The visit will also provide an opportunity to Manmohan Singh as he will be able to "reset" his "personal chemistry" with Putin, who has officially been nominated as the presidential candidate by the pro-Kremlin ruling United Russia party. Putin is considered as an "old pro-India hand" and is most likely to stay in power for two terms which augurs well for further broadening and deepening of the strategic partnership between the two countries.
Indeed, the Manmohan Singh-Medvedev meeting has all the potential ingredients of becoming a historic summit that will expand bilateral ties across a vast spectrum, including defence, civil nuclear energy, space, science and technology, hydrocarbon and, trade and investment. From the first summit after the collapse of the Soviet Union between then Russian President Boris Yeltsin and then Indian Prime Minister P.V. Narsimha Rao in Moscow in 1994 and the Declaration on the India-Russia Strategic Partnership in October 2000 to Medvedev's visit to India in December 2010, there has been an all-round and accelerated development in bilateral cooperation.

Last year, the two sides decided to elevate the bilateral relations to the level of a "special and privileged strategic partnership." This was quite clear from the fact that as many as 29 agreements were signed during Medevedev's visit to India last year


In the run up to the summit meeting, a slew of Indian ministers and senior officials visited Moscow to hold talks with their Russian counterparts to firm up the agenda for Manmohan Singh-Medvedev talks. They included Defence Minister A. K. Antony, External Affairs Minister S.M. Krishna, Trade and Industry Minister Anand Sharma, Steel Minister Beni Prasad Verma, Power Minister Sushilkumar Shinde and National Security Adviser to Shivshankar Menon.


"Since the declaration of our strategic partnership a little over a decade ago, the India-Russia cooperation has undergone a qualitative change in almost all areas of our interaction, and particularly the main areas such as defence, space and nuclear energy," Krishna said after his bilateral talks with his Russian counterpart Sergei Lavrov on November 17.


During his three-day visit to Moscow, Krishna co-chaired the 17th meeting of the Indo-Russian Inter-Governmental Commission (IRIGC) on Trade, Economic, Scientific, Technological and Cultural Cooperation with his Russian counterpart Deputy Prime Minister Sergei Ivanov, a close ally of Putin. They also firmed up the agenda for the forthcoming agenda of the Indian prime minister. "A very detailed agenda has been finalized. It is satisfying that the agenda finalized for the summit reflects the special and privileged nature of our strategic partnership," Krishna told journalists at a joint press conference with Lavrov. "A solid package of documents on various lines of cooperation, including nuclear energy, pharmaceuticals, banking, the interaction between anti-trust agencies of our countries, and cooperation in education, is being readied for signature at the summit," Lavrov said.


Krishna and Lavrov focused on the international agenda, including discussions on the situation in Afghanistan, the Mideast and North Africa, that will figure in the summit meeting. "We feel that the coordination of Russia and India's approaches to topical and regional problems, including at UN venues, in the G-20 and in BRICS, RIC and SCO is the calling of the times, and reflects the desire of our two countries to strengthen universal peace, security and stability," said Lavrov.


Although some divergence of views emerged between New Delhi and Moscow on foreign military presence in Afghanistan, Krishna did make it clear that India and Russia "share similar perceptions" on Afghanistan, Iran, Mideast and North Africa. Moscow is strongly opposed to the permanent deployment of US military bases in Afghanistan and in the former Soviet Central Asian countries. New Delhi, on the other hand, feels that foreign powers can help Kabul fight the menace of terrorism. However, both agreed on the need to boost the Afghan economy. Lavrov also backed the idea of upgrading India's observer status to full membership in Shanghai Cooperation Organisation in the "most expeditious manner."


At the talks, India and Russia reaffirmed their resolve to achieve the bilateral trade turnover of $20 billion by 2015. The bilateral trade turnover reached $8.5 billion in 2010, increasing three-times since 2005, but falling short of the $10 billion target set by the two countries for 2010.


The two sides agreed on four important vectors to galvanize bilateral trade and for fructifying cooperation, including creation of the Joint Study Group (JSG) to prepare a Comprehensive Economic Cooperation Agreement (CECA), with the Custom Union, which unites Russia, Kazakhstan, Belarus, enhancing connectivity through the International North-South Corridor and Joint Public-Private Investment Fund for investments in India and Russia. The sides also decided to create a new Working Group (WG) on modernization in addition to the nine Working Groups already functioning within the framework of IRIGC.


The development of civil nuclear energy cooperation is going to be a key area of "special, privileged strategic partnership" in the near future. Despite the ongoing protests over the controversial Kudankulam Nuclear Power Plant (KNPP) in Tamil Nadu, India and Russia are expected to sign agreement on two additional reactors (units 3 and 4) during the summit in Moscow.


}

"Russia regards India as a key market for its nuclear energy technologies and equipment," Ivanov said at the 5th meeting of trade and investment forum in early October in Moscow. He also said the talks are being finalized on a contract to build units three and four.


The situation over the KNPP is also likely to come up for discussion at the Moscow summit. Being built with Russian assistance, the nuclear power plant is under threat over protests from environmentalists and locals.


Russia and India have big plans for the future in the field of civil nuclear energy, including the roadmap of bilateral cooperation approved in March 2010. In the wake of protests at KNPP, Russia fears that they may be not implemented, harming the vital interests of both countries. This in spite of the fact that Medvedev and Singh, in the aftermath of the catastrophe in Japan, had decided to jointly review the safety of nuclear reactors installed at KNNP and also agreed not to halt ongoing projects. Russians are also worried over anti-nuclear protests having a chain reaction in other Indian states, as in West Bengal where authorities have been fighting against the Russian- backed nuclear power project at Haripur.


The scandal at the KNPP also coincided with Moscow losing major Indian tenders to manufacture and supply 126 multi-role fighter jets and 22 Mi-28 Night Hunter helicopters for the Indian Air Force. However, Indian Defence Minister A. K. Antony allayed Moscow's apprehensions when he visited Moscow in mid-October to co-chair the 11th meeting of the Indo-Russian Inter-Governmental Commission on Military-Technical Cooperation (IRIGC-MTC) with his Russian counterpart Anatoly Serdyukov


"I am happy to say that all outstanding issues regarding retrofitting of the heavy aircraft carrier Admiral Gorshkov (INS Vikramaditya) have been solved and Russians have again confirmed that by the end of December 2012 the ship will be ready to be delivered to India," Antony told Indian journalists after talks.


"We also hope that all activities on the MiG-29K are completed to achieve synchronization with the aircraft carrier," he said. "We reviewed the progress in military-technical projects and we are satisfied that things are going as per planned schedule. Distinct improvements have taken place in the pace of progress of many critical projects in the last one year.


At the same time, Antony expressed India's concern over the "tardy progress" in the design and development of the Multi-Role Transport Aircraft (MTA), delay in the second series of Talwar class frigates at the Yantar shipyard in Russia's Kaliningrad, Fifth-General Fighter Aircraft (FGFA), lack of product support and issuing export licence.


Against this backdrop, Anatoly Isaikin, the chairman of Russian state arms exporter Rosoboronexport, stressed that India remains Russia's largest strategic partner in military-technical cooperation. He said that Russia is taking part in 20 tenders in India, with which it has a military-technical cooperation agreement until 2020.


The bilateral military cooperation program, in particular, stipulated the transfer of the Akula-II classs K-152 Nerpa (renamed INS Chakra) attack nuclear submarine to India on a 10-year lease by the end of 2011. The deal was signed in 2004 and it was initially to be delivered to the Indian Navy in 2007.


However, despite differences on some issues India and Russia have chosen to resolve them amicably in the spirit of mutual trust and accommodation that has marked their special relationship. "India considers Russia a unique strategic partner and a longtime trusted friend. We very much value this friendship and want to expand and deepen it further," he said, "Together we would like to consolidate our relationship and take it forward," he said.
Dadan Upadhyay is a senior Indian journalist based in Moscow
All rights reserved by Rossiyskaya Gazeta.