The 40th anniversary of Russian vaishnavas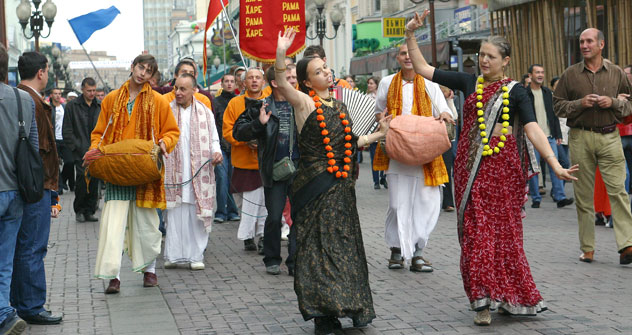 There are more than 100 major vaishnava spiritual centres in Russia. Source: ITAR-TASS
Indian President Pratibha Devisingh Patil has congratulated Russian vaishnavas – followers of the Society for Krishna Consciousness.
"Over the last several decades, ISKCON (International Society for Krishna Consciousness) has played an important role in popularising the noble and eternal message of Srimad Bhagavad-gita and has contributed to establishment of spiritual harmony in many countries", Ms Pratibha Patil's message reads in part.
"The fact that you have been engaged in this activity for such a prolonged time attests to your determination", Ms. Patil goes on. "I congratulate ISKCON Russia and hope its followers will continue their service to the people of Russia with the same enthusiasm as before. I extend my best wishes to the worshippers of the Lord Krishna in Russia in connection with this joyous event."
As NEWSru.com was told by the public relations department of the Russian Centre of Societies for Krishna Consciousness, that spiritual movement, which has become a symbol of religious freedom in the post-Soviet space, is today developing vigorously in the sphere of social service, as well as cultural and educational activities comprising, among other things, strengthening of Russian-Indian relations, propagation of a healthy lifestyle without alcohol, cigarettes, drugs, etc.
There are more than 100 major vaishnava spiritual centres in the country, as well as several hundred religious groups. The Russian vaishnavas account for a large proportion of Russian tourists to India. Twice a year, many vaishnavas make pilgrimages to the holy places such as Vrindavan and Mathura (the birthplace of Krishna), Nabadwip (the birthplace of the Golden Avatar Sri Chaitanya) Jagannath Puri, the Himalayas, and southern Indian temples and shrines.
Click "play" to see Russian vaishnavas. The Celebration of Ratha Yatra – the fest of the chariots - how it happened in Moscow.
All rights reserved by Rossiyskaya Gazeta.