Is there some madness in teaching English in Russia?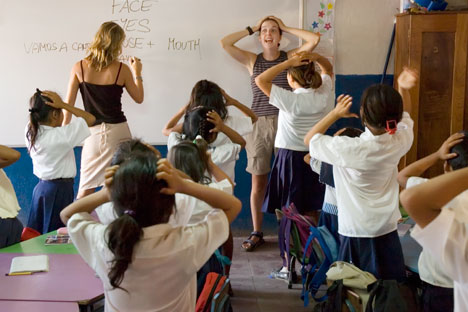 There is a strong belief in the West that one should be a bit crazy to teach English in Russian schools. Source: ITAR-TASS
You don't need to be crazy to teach English in Russia, but it helps.
"Are you crazy?" is invariably the reaction that the English language teachers I met received when they told their family and friends about their plans to go to Russia and teach English. People in the West are not used to thinking of Russia as a country with good job opportunities, let alone a place to settle down. It is probably true that making the decision to become an English language teacher in Russia does require a fair dose of madness. But, as soon as teachers arrive in the country and start their new work experience, they realise that it's extremely easy to get accustomed to the Russian way of life. In fact, most enjoy it to such an extent that they have no intention of heading back to their old life any time soon.
English teaching programmes are a relatively new reality for Russia, a by-product of the collapse of the Soviet Union. In the 1990s, Pelevin's Generation P was discovering the world of Pepsi Cola, Nokia phones and Marlboro cigarettes. The English language became a commodity, the access key to this new world. As Richard Moore, Managing Director of language service provider Language Link, recalls 'the sudden recognition of the value of the English language led to a situation in which everyone wanted it.' English language schools found fertile ground in Russia's newly established market economy. This led to the creation of today's army of native speaking English language teachers.
In search of something different
Teachers come from various countries and have extremely different backgrounds and levels of experience. For example, Tom, a 23-year old Liverpudlian who graduated in Russian and French at University College London, spent a term in Volgograd whilst at university, and is now working for Language Link in a private school in Moscow's countryside. And John from Chicago, 70, was asked to work at the Liden & Denz Russian Language School in Saint Petersburg after retiring in 2007. He had already lived and worked in Russia for a few years before, and welcomed with enthusiasm this new challenge.
Most of the teachers, though, seem to be looking for a significant change in their lives. William 42, left a career as a building manager in London to become a teacher for Liden & Denz in 2009, after the economic crisis hit his business. "Every year there was less money in the budget to carry out the work and finally when the crisis came, the job became impossible," he recalls. Since his wife is Russian he came up with the idea of moving to her native country and finding a job as a teacher there. "I must admit at the time this seemed to be the easiest way to get a job here [in Russia], especially when you don't speak the language. But also I wanted to change my career and my life for the better and we felt that we could start a new life in Russia." And a new life is what everyone gets once they set foot in the country.
The teachers say they were surprised at how extremely well-behaved, focused and responsive the students are. In many cases this might be due to the fact that the majority of the teachers work for private schools, and tuition fees can be very expensive. But, even for those working in public schools, like Tom, teaching to Russians has been particularly rewarding. "I have seen how quickly they learn, and therefore how much they benefit from my presence as an English native speaker," he says. "Moreover, I never really thought that I would have any skill in teaching children, but have been pleasantly surprised to find that I do, and that I can give them effective lessons."
Overcoming bureaucracy and difficulties
It usually takes some time to adjust, but in most cases the teachers are welcomed with support and help by the school staff. "Windsor is very good. They helped me with the admin, my visa, accommodation and they pay me on time," says Louise, a 31-year-old teacher from Great Britain working for the Moscow-based Windsor school.
Two of the most common qualifications required to teach in Russian schools are CELTA (Certificate in Teaching English to Speakers of Other Languages), and TESOL (Teaching English to Speakers of Other Languages). Achieving these qualifications can be extremely demanding, but this also reveals how motivated the teachers are. Tom, for example, spent a month of intense training in London, for which he had to pay £960, before getting his CELTA certificate from Language Link.
But, a certificate in teaching doesn't always guarantee a bed of roses. The bureaucratic side of things can be daunting and, as Charlotte, a British citizen working for a private school in Saint Petersburg, puts it: "there is no safety net." If you are on your own, don't speak Russian very well and don't know how things work, it can be overwhelming and frustrating. Even John, who had worked as a teacher in Russia even before his retirement and arrival at Liden & Denz, had some bad experiences: "In other schools I have worked for they asked us to wait for our salary, after we had done the teaching. They didn't pay us but expected us to continue working," he remembers. "Threats were a common way of trying to get us to perform. If you don't do this, we will not pay you. A deal was never a deal. I could make an agreement and then find myself renegotiating something I was certain was signed sealed and delivered three months ago."
Negative experiences, however, do not seem to outweigh the positive aspects. For Alex, another Language Link teacher, "It is an adventure and a challenge, and it will give you some unforgettable memories. If you come to Russia with an open mind, you can't fail to have a worthwhile experience." Everyone has a fond memory to share. And if you ask them, they all seem to think that the best thing about Russia is how nice and warm people can be, once you get to know them. Braden Gibson, Assistant Director of Studies at English First Mayakovskaya, a school located in Moscow said: "I was told when I first arrived in Russia that people here are like coconuts, tough on the outside, yet soft on the inside."
All rights reserved by Rossiyskaya Gazeta.