An ode to the great Russian Far Eastern winters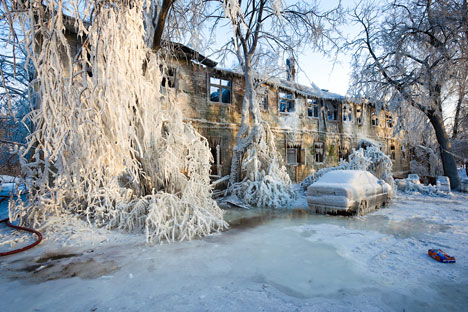 Ajay Kamalakaran believes that minus 50 degrees Celsius and ice on the sidewalks are not a cause for concern. Indian can easily fall in love with snow.
Nothing seems more daunting for an Indian looking to visit or live in Russia than the long and great winters that are part of international literary folklore. Depending on the region, temperatures can fall down to minus 50 degrees Celsius. This is enough for many vegetarian teetotaller Indians to consider the possibility of drinking vodka and eating sausages. That is, before they actually visit the country.
Winter in Russia is not as harsh as it's made out to be. Unlike in the North Indian plains in the cold months of December and January, buildings in Russia are well-equipped with centralised heating. Winter is actually a beautiful time to be in the country; the snow is beautiful, the buildings are warm and there are several beautiful holiday celebrations, making the season party time.
When I first landed in Yuzhno-Sakhalinsk, I was taken aback by the announcement on board the aircraft that the local temperature was -20 Celsius, but as I was to find out soon, the cold wasn't the most serious threat. It's actually quite a pleasure to go for a walk on a sunny winter afternoon. You can dress well-enough for the cold, but the biggest obstacle is the ice on the sidewalks. While I took my first evening walk on Sakhalin Island, I slipped and fell a grand total of 10 times in the first half an hour. What was I to expect from the hospitable Russian public of the island? Sympathy? Concern? What I got was round after round of laughter. It seemed to be that much funnier that a foreigner was slipping and falling so often. The right shoes reduced the frequency of my falls until I was an expert on navigating the ice. There are stories of hospital wards being filled with "clumsy" foreigners who ended up fracturing their legs. The 'forces' were kinder to me, even when I tried my hand at mountain-skiing for the first time.
Source: AFP/ East News
A white blanket envelops Sakhalin from November till the end of April. The top layers of rivers and lakes freeze over and within weeks of the onset of winter, it is possible to take long walks on these bodies of water. Thanks to ice floes from the northern parts of the island, you can camp out on the sea as well. The island's Tihaya Bay was my favourite spot to go on a walk on the Sea of Okhotsk and camp overnight in temperatures that felt colder than they were because of the wind-chill factor.
Winter is also a great time to go ice-fishing on the island. A common headline in newspapers was "fishermen stranded on ice floes," as several people ignored warnings from the emergencies ministry to avoid fishing in particular areas. Each year, emergency ministry teams rescue drifting fishermen.
Source: AFP/ East News
If you are not an outdoor person and are wondering how cities handle the winters, here is a startling fact: Sakhalin witnessed 42 cyclones in the winter of 2006-7 and if memory serves me right, there wasn't a single power cut all winter. There were no disruptions in the central heating supply, no problems of any kind with warm water supply. Schools, universities, offices and life in general seemed to go in a normal manner, despite the weather. As is the custom, most people parked their cars in garages not wanting to risk driving on the ice, but it is business as usual for the taxis. The airport would be closed and ferry services from the Russian mainland would only be halted if there was a major snowstorm. Far Eastern Russians laugh when they see reports on television about Heathrow Airport getting shut because of 2 inches of snow on the tarmac.
While Muscovites and others in central Russia consider Sakhalin winters as extreme, other inhabitants of the Russian Far East may have a different opinion. The port city of Vladivostok doesn't get much snow but the icy winds from the North Pacific Ocean can blow people away. They've even blown away cars on occasions. -36 degrees greeted me in Khabarovsk, but the coldest temperature I have ever experienced in the region is -43 Celsius on a December day in Komsomolsk-na-Amure. Dressed for the occasion, I managed well, but my Russian friends had "frost-beards" that afternoon and were happy to be back in the comfort of home after a walk on the riverside.
Across the region, a favourite winter pastime is to visit the sauna, get warmed up and then run outside in the 'Emperor's New Clothes' and jump into fresh snow. Not once did I fall sick in 4 winters while attempting to be a daredevil. There is also a minority of people who like to drill a hole on a lake or the sea and then swim. Since the temperature of the water is warmer than that of the air, the body feels fine as long as it's immersed in the water. There's also enough adrenaline to keep the body warm while getting dressed again.
Source: AFP/ East News
Celebrations also make winter worthwhile in Russia. New Year is welcomed in a grand (albeit over-commercialized) manner. Every city is lined with decorations and has a giant New Year tree. Cities like Khabarovsk and Yuzhno-Sakhalinsk are also famous for their ice-sculptures. Many a Russian I came across in the Far East couldn't fathom the thought of welcoming a New Year without snow! Winter also has another important festival: International Women's Day. In capitalist Russia, prices of roses shoot through the roof in the lead-up to the holiday to honour "the most beautiful women on earth." The sight of rose petals on freshly fallen snow isn't uncommon in the first week of March. There's also Men's Day in February and Maslenitsa (an occasion to welcome the Spring) in March.
Winters in the Russian Far East tend to last long and you can hear mutterings on a cold February afternoon that "skoro budet leto" meaning summer will arrive soon. Yet, despite its length, the Russian Far Eastern winter is a unique and beautiful phenomenon. This is the time to see Russia in all its white glory.
---
Ajay Kamalakaran is a journalist, travel-writer and iconoclast, based in Mumbai, India. He was the editor of the Sakhalin Times in Yuzhno-Sakhalinsk, Russia from 2003 to 2007.
All rights reserved by Rossiyskaya Gazeta.