"Khodorkovsky" again defies the authorities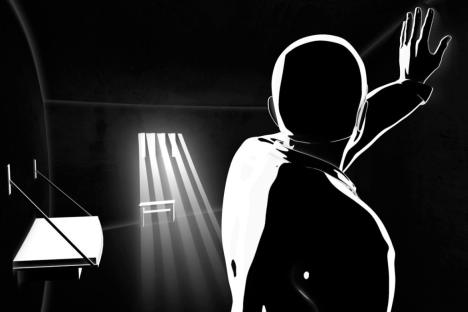 The footage from the "Khodorkovsky" movie. Source: www.kinopoisk.ru
The decision by Russian theaters to not show the film backfires after demand for it grows.
Although nearly every Russian cinema that agreed to show the controversial German film, "Khodorkovsky" ended up reversing its decision at the last minute, the acclaimed documentary by Berlin-based director Cyril Tuschi will be presented in at least 11 Russian cities, including Moscow and St. Petersburg.
Praised by critics at the Berlinale 2011, "Khodorkovsky" chronicles the rise and fall of Mikhail Khodorkovsky, from his purchase of Yukos in 1995 for an allegedly bargain basement price due to his close relationship with then-President Boris Yeltsin, to the short interview that Tuschi managed to have with the man during his second trial alongside former colleague Platon Lebedev in April 2009. Dozens of interviews –including several that are very intimate – with Khodorkovsky's family, friends, colleagues and lawyers, as well as an exchange of letters between Khodorkovsky and the director create an image of a strong, reserved, high-spirited individual who was also a brilliant manager and businessman as well as, partially, a martyr.
"Khodorkovsky" lacks any of the opposition's perspective, reportedly due to the fact that none of Khodorkovsky's antagonists, from Rosnano head Anatoly Chubais to Prime Minister Vladimir Putin, agreed to comment on the case. In fact, Putin's press secretary told the filmmaker that the prime minister "is very busy and can't talk to you."
Although major Russian distributors didn't seem to be interested in the film, Olga Papernaya, co-founder and art director of the Cinema Club at Winzavod in Moscow, decided to acquire the rights to distribute "Khodorkovsky" in Russia. Getting the distribution certificate for the film was a time-consuming process – Tuschi said it took Papernaya four times longer than average – but by mid-November around 30 cinemas in Russia had agreed to show the film, beginning on Nov. 30.
Yet by Nov. 21, nearly all the cinemas, including six out of seven theaters in Moscow, had reneged on an oral agreement with Papernaya to screen the movie without giving any substantial explanation as to why.
"There's been attempts to ban the film through threats," wrote Olga Papernaya on her Facebook page. "Out of seven Moscow venues, only the Eldar cinema is still in. Everyone else is scared."
"Everybody says, 'the Kremlin said something,' but my feeling is, nobody said anything, it's just self-censorship," said Tuschi at the New York premier of "Khordokovsky" at Film Forum on Nov. 30. "They don't want to get kicked out of the business. Even my friend, a prominent international and Russian film distributor, told me he could not do it because his business partner is close to the Kremlin."
Papernaya and Tuschi didn't give up. They started looking into alternatives and quickly found two non-theatrical venues in Moscow that were willing to host the film: FotoLoft gallery at Winzavod and a silent cinema at Flakon; later, a cinema club at Tsvet Nochi café came onboard.
Source: VISO Trailers
The film's Moscow premiere as a part of the Artdocfest documentary festival on Dec. 2 drew hundreds to the Khudozhestvenny cinema.
"The lines began from [Arbatskaya] metro station," Papernaya said, "So the cinema had to schedule an additional screening right after the first one was over." In the meantime, regional distributors willing to show the documentary started contacting Papernaya on Facebook, according to Tuschi. FotoLoft gallery at that point had completely sold-out a week's worth of seating for "Khodorkovsky," even with six screenings a day.
Seeing all of this, theaters that had at first abandoned the documentary began getting back in touch with Papernaya, ready to once again host the film. "People from Moskino distribution network contacted me, saying that they were ready to endorse the movie starting on Dec. 8," she said. "They made no references to their previous withdrawal, they just informed us that they were ready, as if we would have an ongoing dialogue."
As of Dec. 3, approximately 25 theaters in Russia and Kazakhstan were interested in showing the film. "I'm sure other bigger distributors will get back to us soon," Papernaya said.
The situation surrounding the distribution of "Khodorkovsky" sets a precedent for creative grassroots film distribution projects in Russia. The success of this venture will ultimately depend on its results. "Cynicism is contagious, but on the other side, courage is contagious too," Tuschi said. "Every time I'm in Moscow, I see that something is changing. People are rapidly losing fear. I see it in people's reactions when we show the film, how and what they are asking. I have a good feeling."
All rights reserved by Rossiyskaya Gazeta.