The short road from UN resolutions to regime change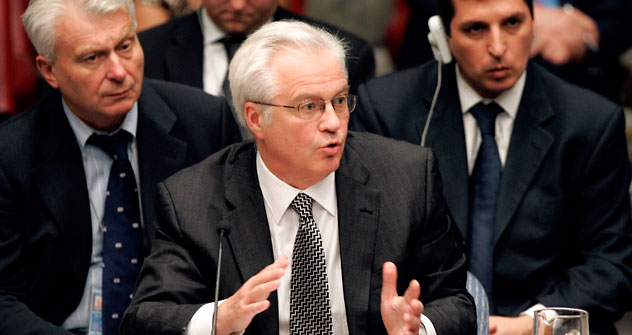 Russia's UN Ambassador Vitaly Churkin. Source: AP
As Russia assumes the rotating presidency of the UN Security Council, Russian Ambassador to the United Nations Vitaly Churkin explains Moscow's view on the situation in the Middle East.
Russia vetoed a UN resolution condemning the Syrian government because it fears that such measures have become a trigger for regime change rather than the protection of civilians, commented the Russian ambassador to the UN, Vitaly Churkin, in an interview with Russia Beyond the Headlines.
Read Vitaly Churkin's full interview :
Churkin, who has been Russia's ambassador to the UN since 2006, recently began his term in the rotating presidency of the Security Council. Earlier this year, Russia supported one resolution on Libya and abstained on a second, but Churkin said that the members of the Security Council were assured before voting that the no-fly zone was designed to protect civilians. He was promised that it was not an effort to bring down the regime of Col. Muammar Gaddafi. "After all those assurances, very quickly, we were told: 'Well, we will have to change the regime basically and go after Gaddafi in order to carry out this resolution,'" Churkin said. "We did not take that well, because it was a flagrant case of misusing the prerogatives of the Security Council which, as you know, was undermining the prestige of the Council, and undermining its ability to act effectively in the future."
The Russian veto of an October resolution condemning Syria, which was supported by China, drew strong criticism from the United States, France and the UK. "The courageous people of Syria can now clearly see who on this council supports their yearning for liberty and human rights, and who does not," said Susan Rice, the American ambassador to the UN.
Churkin rejected the United States' criticism and said Russia has its own understanding of events in Syria. "Yes there were large peaceful protests in some parts of the country, but there was also violence used against government institutions, and that tendency was increasing as events started unfolding," the ambassador said. "So what Russia was doing was staying in continuous talks with the Syrian authorities, the Syrian opposition and calling on all members of the international community to push towards dialogue, because we believe that in order to start dialogue, the people who really want change in Syria need to dissociate themselves from violent extremists. The international community must call on everybody to enter into dialogue. We do not accept the premise that somehow the Assad regime cannot change, that there cannot be progress under that regime."
Churkin highlighted the impatience with Syria shown by the West to their willingness to negotiate over several months the departure of Yemen President Ali Abdullah Saleh, as well as American calls for dialogue, not endless protests in Bahrain.
"We are very happy that we have just had a political settlement signed in Yemen after months of negotiations; it took months and dozens of various drafts," he said. "The international community was able to show patience and encouraged both parties to hold dialogue, even though in Yemen I think that there was more bloodshed over the past few months than in Syria. We believe that generally speaking, in such situations, the international community should be consistently in support of a political outcome through dialogue rather than stirring up more domestic trouble."
Churkin also reiterated Russia's longstanding belief that diplomatic engagement remains the most effective means in preventing Iran from acquiring nuclear weapons. He said that he saw little new information in the most recent International Atomic Energy Agency (IAEA) report on Iran's research and development activities. "We are analyzing it," he said. "But at first sight, it did not add anything to the general knowledge of allegations about Iran. It was played up, unfortunately, as a major PR exercise when the media started [quoting from it] well before it was published, and then it was leaked from IAEA. This is not a good thing. So from the outset, it was clear that the intention was to use it for some sort of psychological and political gain rather than to deal seriously with the situation in Iran."
Churkin also added that Russia is opposed to a new round of sanctions, fearing that they will not be focused on any actual threat but on affecting the domestic situation in Iran. And, he continued, previous rounds of sanctions have been expanded upon by the United States and the European Union "to place limitations on other countries in their dealings with Iran. As a matter of principle, we think that this is wrong."
All rights reserved by Rossiyskaya Gazeta.