Caucasian Winter in South Ossetia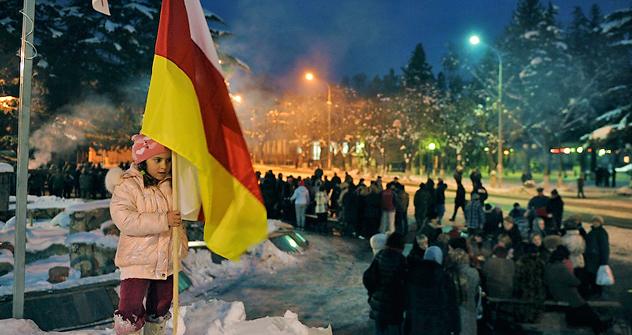 More than a week has passed since the presidential election in South Ossetia, but protests still continue in the republic's capital, where supporters of opposition candidate Alla Dzhioyeva demand that the court recognize her as the elected president. Photojournalist Mikhail Mordasov talks about the contradictions in this "Caucasian Winter."
Source: Mikhail Mordasov
"Shoot, shoot just the truth!" "Why don't you show anything?" These are the questions every journalist is asked 10 times a day by supporters of South Ossetia's supposed president-elect Alla Dzhioyeva. It doesn't matter whether the journalist has a voice recorder or a camera. Another popular conversation with reporters contains just the opposite message: "Stop shooting. You still haven't shown anything."
Background
The presidential elections of South Ossetia took place in two rounds. In the final round, establishment candidate Anatoly Bibilov, the head of the Ministry of Emergency Situations, faced off with opposition candidate Alla Dzhioyeva. According to preliminary data, Dzhioyeva was the race's frontrunner. However, voters still have not learned the final results of the vote – South Ossetia's Supreme Court declared the elections invalid, explaining that recorded violations were the cause of their verdict. Disagreeing with the overriding of the voting results, Dzhioyeva declared herself president and formed a state council to "provide a constitutional transfer of power." Challenger Bibilov called the situation in the republic "an Orange Revolution."
But there is nothing to shoot. For almost a week, people on the square have been lighting bonfires, making tea and meat in pots, pitching tents, bringing in logs and mattresses, and running generators to provide light and music. Sometimes they dance and sing, while other times Dzhioyeva or her headquarter's staff appear before the people to say that everything must be resolved peacefully, but in fact they don't resolve anything at all. Moscow won't listen. Dzhioyeva is treated not as a politician, but as a Caucasian woman: She should know her place and not meddle in the affairs of men.
Yet the people occupying the square are not going away. They have made their choice. The military guarding the government building, which stands opposite the protesters, is no stranger. They live here, chatting with their friends and neighbors who are also on duty protecting the right to choose their own leadership. They talk with the girls, greet the men and hug the children. The men chop firewood and throw it in barrels so they can stay warm at night. The women are updating their wardrobe; it has become fashionable to wear a few pairs of pants, a jacket and warm boots, with a scarf or wrap on top. In the evenings, there's accordion or guitar music on the street or a club set up in a tent. People are settling into a daily routine. Alla Dzhioyeva seems as though she herself does not know what to do. Every day she comes up with something new and it feels as if everything is going to come to an end. Every day, journalists think that tomorrow they will go home. Yet every morning, they return to the square.
All rights reserved by Rossiyskaya Gazeta.