Moscow faces vote protests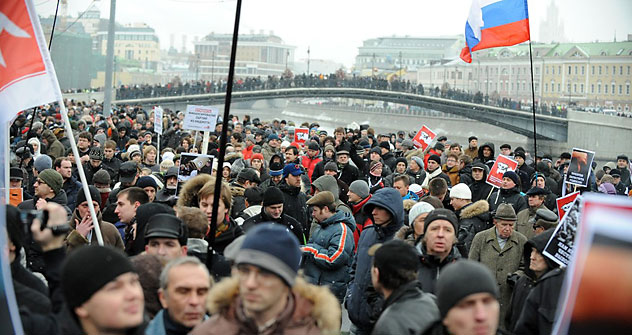 The protest in central Moscow began about 1 p.m. with between 15,000 and 20,00 people gathering on Bolotnaya Square, the site of the officially sanctioned protest. It was a mixed crowd – young and old, Communists and liberals. The protestors were matched by a huge police presence.
By about 4 p.m., the number of people gathered had reached approximately 25,000. If the crowd stays close to the 30,000 allowed by the authorities, the Kremlin will not face a decision to block additional participants from entering the square.

So far the organizers have cooperated with the police and encouraged the protests that gathered on Revolutionary Square opposite the Bolshoi Theater to leave and join the official protest at Bolotnaya Square across the river.

This suggests that the protest will remain peaceful. The atmosphere in Bolotnaya is calm, with opposition leaders like Boris Nemtsov giving speeches calling for Putin's departure. Although the crowds were smaller than expected, it is still one of the biggest post-Soviet Moscow has seen.


The next possible flash point will come at 6 p.m. when the demonstration is due to end. At that point, the police will have to decide whether they will forceably remove the protestors if they refuse to leave. However, given that both the Kremlin and the protestors themselves say they want a peaceful demonstration, it seems that this point the protest will end quietly. Still, there are a reported 50,000 police on duty in and around central Moscow.

Reporters are claiming that mobile phone services, especially the high bandwidth that allows sending of pictures and videos by phone, have been degraded and some reports that it has been cut off completely. Wi-Fi in or near the square has been turned off, although video streams from the square are still working.
There is a live stream from the park here:
http://www.ridus.ru/news/14266/
Smaller demos in regional cities including St. Petersburg are happening across the country with some reports of arrests, but also seem to be largely quiet.
If this is going to turn into a "colored revolution" then the color will be the white ribbon that is appearing as icons on Facebook and Twitter.
All rights reserved by Rossiyskaya Gazeta.