American planes find their compass in the Ural mountains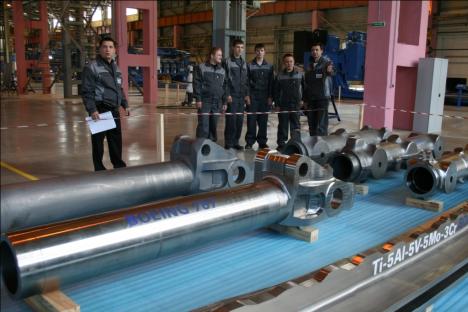 The plane parts are manufactured in the Sverdlovsk region. Source: Pressphoto, titanium valley
Components of the Boeing Dreamliner are made in the Ural Mountains before being shipped for final assembly to the United States.
When U.S. aerospace company Boeing announced during President Barack Obama's visit that it would invest $27 billion into Russia over the next 30 years, authorities in the 4.3-million strong Ural Mountains region of Sverdlovsk were jubilant. The company had just launched a $70-million joint venture (Ural Boeing Manufacturing) to construct aircraft components with local company VSMPO-AVISMA, the world's largest producer of titanium. Eighteen billion dollars of the proposed investment was earmarked for acquiring titanium products.


Two years later, several titanium components for Boeing's Dreamliner jet, as well as landing gear beams for the 737, are manufactured in the Sverdlovsk region before they are shipped to Boeing's factory in Portland, Ore., for final assembly.


"The efforts of the Sverdlovsk regional authorities to create a positive investment climate have not only allowed one of Russia's oldest titanium manufacturers to lead a major modernization of their production facilities, they have also provided the opportunity for international industrial integration," commented Ural Boeing Manufacturing General Director Gary Kessler. Despite producing 25 percent of the world's titanium and being a major supplier to Boeing and EADS, VSMPO-AVISMA remains little known outside Russia.


The local capital of Yekaterinburg, an industrial hub with more than one million citizens, has a relationship with the United States - and France - that goes back to the 19th century, when the Ural region supplied the metal for the frame of the Statue of Liberty.


A strategic closed city of the Soviet defense industry, Yekaterinburg opened up its doors to international manufacturing giants in the mid 1990s in an attempt to reorient defense production. American firms currently lead the way with $1.8 billion in trade turnover in 2010 alone, with major investments coming from companies like 3M and Hewlett Packard. "Unlike in Moscow, there aren't that many American companies operating in Yekaterinburg," commented Igor Chernogolov, president of Penetron Russia. "That's why regional authorities give us a lot of attention."


Forbes magazine recently ranked Sverdlovsk the second most attractive Russian region for foreign investors.


Russian Prime Minister Vladimir Putin unveiled the formation of a "Titanium Valley" special economic zone in the region to attract foreign investment.


The project will involve $530 million in federal investments, with the hope of creating 15,000 jobs.
900 Miles from Moscow. Source: Drawing by Niyaz Karim
All rights reserved by Rossiyskaya Gazeta.