Peaceful protest makes a statement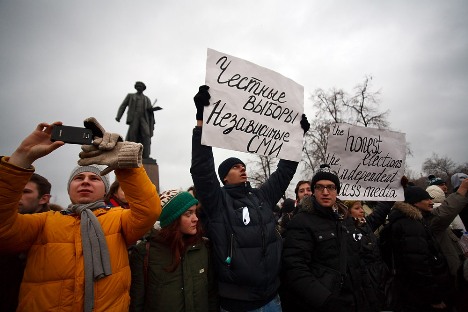 Russians came to the demonstrations to support fair and transparent elections and the freedom of the press. Source: Ruslan Sukhushin
Although between 30,000 and 50,000 people turned out on Dec. 10 to protest against the 2011 State Duma elections, the gatherings were not marked by large-scale arrests and clashes with police officers.
The Dec. 10 demonstrations at Bolotnaya Square failed to turn into revolution-inducing public unrest with mass detentions and fighting with police officers. Despite the large scale, the protests against the authorities and the results of the 2011 State Duma elections were comparably peaceful. Although the protest had originally been scheduled for Revolution Square and some participants started a protest there, eventually they joined more than 40,000 protestors gathered in the officially sanctioned location, Bolotnaya Square. Many participants wore white ribbons, symbolizing honesty and transparency. Others brought white balloons and flowers.
Despite predictions that the Russian authorities might take tougher measures to prevent the protests, almost no one was taken into custody and there were no clashes with police. Members of far-right groups chanting nationalist slogans tried to provoke a fight, but most protestors were not interested in a battle – they attended the meeting simply to express their frustration.
"Although I don't like large protests because they are messy and not well-organized, I decided to come today," said Vasily, 56, a teacher at a private school. "First of all, I couldn't put up with ongoing violations on the elections. Secondly, I was very surprised when I knew that some Russian high school required its students to take a mandatory test on Saturday to prevent them from going to protest. That was the last straw for me."
People from all over the world also supported the Saturday demonstrations. Russian citizens living in the U.S., the UK, Sweden, France, Germany, Canada and other countries came to Russian embassies to express their indignations about the results.
Nevertheless, it remains unclear what consequences, positive or negative, will these protests result in. It is this unpredictability that is helping to fuel worldwide interest in the event.
"In recent history Russia doesn't have a tradition of taking to the streets for public protests. It's really interesting to watch whether this type of the large demonstrations which gathered - if the number is accurate – around 50,000 protesters. It is almost double the amount we expected," said Rick Westhead, an international reporter from the "Toronto Star," who came to Moscow to witness the demonstration.
"It's important what's happening right here, especially, in the context of the recent protests in different countries. We've seen the regime changing in Libya, Tunisia, and Egypt. Yet it is very difficult to predict the future political scenario in Russia. After all, you can find political scientists and experts who have been wrong in their forecasts."
All rights reserved by Rossiyskaya Gazeta.