Fired for the sake of professionalism?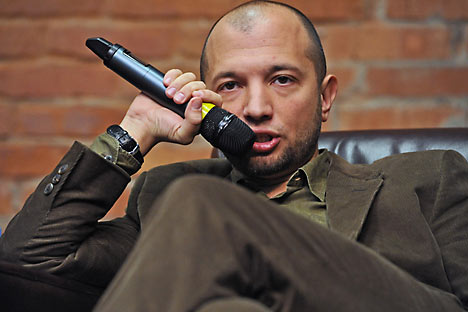 "Kommersant" publishing house CEO Demyan Kudryavtsev faced a tough decision. Source: Kommersant
The management of a big Russian publishing house is fired for printing a photo containing explicit language.
Russian billionaire and minority shareholder of London soccer club "Arsenal" Alisher Usmanov has fired the CEO of "Kommersant-Holding" Andrey Galiyev and "Kommersant-Vlast" editor-in-chief Maxim Kovalsky. Usmanov, as head of Kommersant Publishing House, made an unprecedented move interfering in its editorial activity, citing a breach of journalistic ethics. Kommersant is known in Russia for quality independent business reporting.
Alisher Usmanov has never interfered editorial activity of his publishing house before. Source: Kommersant
"Kommersant-Vlast" deputy editor-in-chief Veronika Kutsyllo confirmed the dismissals occurred over an illustration to a story about absentee voting in Russia's parliamentary election in London. The picture in question depicted a ballot with offensive statements against Russian PM Vladimir Putin. Kutsyllo quit in protest over the firings, saying she considered the illustration "a quote."
While Usmanov compared Kovalsky's decision to "minor hooliganism" and threatened to sue the editor, Kovalsky said he didn't interpret the decision as a form of "pressure." "Kommersant" publishing house CEO Demyan Kudryavtsev applied for resignation amid the scandal and expressed apologies to readers for "unprofessionalism" in his personal blog. Sources indicate his resignation may not be accepted.
Editor-in-chief of state-owned, but editorially independent "Ekho Moskvy" radio station Alexey Venediktov wrote in his Twitter that he wouldn't publish such a photo and would apologize to the readers if it happened.
"Kommersant" publishing house, launched in 1989, was acquired in 2006 by Alisher Usmanov. The holding includes "Kommersant" daily newspaper (with themed supplements), "Kommersant-Ukraine", "Vlast" ("Power"), "Dengi" ("Money"), "Ogoniok," "Autopilot" magazines and also "Kommersant UK," which is published in London. The publishing house has recently launched its own raido station and a TV channel.
All rights reserved by Rossiyskaya Gazeta.