Russian billionaire to confront Putin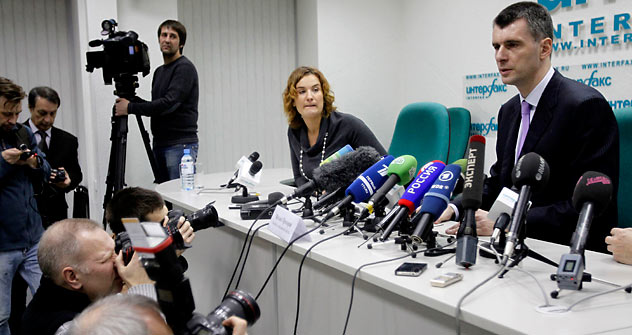 "This is, probably, the most serious decision of my life. I'm running for president." Source: AP
Mikhail Prokhorov announces his return to politics – and he wants to go all the way to the Kremlin.
Mikhail Prokhorov, who left the political scene in September after he was ousted from his position as leader of the Right Cause party, has declared that is throwing his hat into the Russian presidential race. Until now, the billionaire has maintained that there was no alternative to Vladimir Putin. Prokhorov revealed his ambitions during a conference on the current political scene in Russia. Answering the question of which political leader appealed to him most, Prokohorov said: "Myself. I've made a decision. This is, probably, the most serious decision of my life. I'm running for president."
Prokhorov did not go on to describe his program, but stated that he sees himself as a representative and defender of the interests of the middle class. "I totally understand that some of the ideas won't be welcomed by the majority. But I think that my civic duty is to rethink everything happening in the world and in our country in order to find the way which will make our country prosperous and strong," Prokhorov said.
Prokhorov said he had actively followed the rallies against the State Duma election results that occurred all over Russia and among Russian expats abroad. In his blog, where he regularly posts his opinions and comments on current events, he recently made some suggestions for the ruling party. Among others, he suggested creating convenient places to protest in all of Russian cities, to appoint Dmitry Medvedev the chairman of the State Duma and United Russia so that he can reform the party and the legal system. He also suggested appointing Prime Minister Vladimir Putin acting president before the presidential elections scheduled for March 4, 2012.
Experts and voters alike are split on what Prokhorov's decision means.
"It doesn't matter the probability of his victory – the main thing is that the self-organized middle class will have its own party," said one of Prokhorov's supporters, RBC TV channel CEO Alexander Lyubimov. "It's not about the chances, it's about the self-organization of modern Russian, the new type of civil society, those people saw each other for the first time at the Saturday protest."
"Prokhorov is a competitive character, though it doesn't mean that he will win the elections. The main thing is that he has been nurturing the idea to go into politics for a long time, he is in the mood and he is ready. Mikhail is not a newbie in social-political life, he has got potential and achievements," said former Soviet president Mikhail Gorbachev. However, he thinks that Prokhorov has joined the game too early: "I have already told him: there's no need to hurry. If you got initial support, it doesn't mean that you've already become a prime-minister. He left unsatisfied with my words then."
Prokhorov made a brief foray into the political scene in the spring when he suddenly became a leader the liberal pro-business party Right Cause, which claimed to represent the interests of buisiness people and the middle class. Although Prokhorov raised the party's profile and number of supporters, he quit politics in September, claiming that he didn't want to be controlled by the Kremlin.
Former Russian Finance Minister Alexei Kudrin speaking today in the first interview since his resignation also disclosed some details of the history of Right Cause. According to him, the need for such a party appeared a few years ago. "The lack of competent power in [this sector] appeared to be even more burning than one could expect. Today we can clearly state that the demand for such a structure is so high that it will definitely be built. The consolidation of liberal and democratic powers will start happening now," Kudrin said. He also confessed that about a year ago, it was suggested he lead the party, but he declined. Now he insists that such a party is vital and even confirmed that he is ready to support one, but believes a whole new party is needed rather than a restructured old one.
On the other hand, because of his outsized personality, Prokhorov could be used to "draw off" some protest voices and split the opposition, said Gleb Pavlovsky, president of the Foundation for Effective Politics. "The crisis of the political authorities is obvious and they have to widen the options. He [Prokhorov] was thrown off the chess board in August, in spite of the fact that he was coming to a confident victory, I mean his party was about to enter the State Duma. The elections have shown that he has his own body of electors, and without Prokhorov they are turning into dangerous power. It was just a choice: Prokhorov or [anti-corruption blogger Alexei] Navalny. And he [Prokhorov] clearly doesn't look like a candidate who can win the elections, but he looks like a candidate who can draw off a lot of votes. There will be other liberal activists."
All rights reserved by Rossiyskaya Gazeta.