Submarine for Indian navy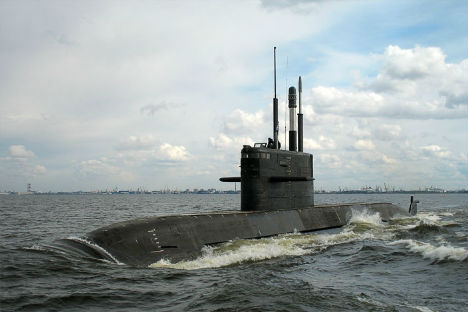 Russian Amur-1650 takes part in Indian tender
Russia's new submarine, the Amur-1650, will take part in an Indian tender for the purchase and licensed production of six non-nuclear submarines, a member of the Russian delegation at LIMA 2011, an international maritime and aerospace exhibition happening now in Malaysia, said Wednesday.
"We are participating in the Indian tender with the Amur and hope that the submarine has a serious chance of winning," a source told Interfax.
According to him, India is planning to buy six of these submarines in total. One of the conditions of the tender is that the submarines must be equipped with air-independent propulsion (AIP)
"The second important condition for the tender is that it be both deliverable and licensed. That is, the first two boats will be produced in the shipyards of the winning country and the other four will be assembled under license in India," the source said.
He said that the Rubin Central Design Bureau for Marine Engineering made major modifications to the Amur-1650 submarine to meet the requirements of the Indian Navy. The diesel-electric submarine got AIP and placement for new missile armament, including the Russian-Indian supersonic cruise missile BrahMos. It has almost completely upgraded onboard equipment, more powerful batteries, and a number of other innovations.
"All this combined has allowed us to considerably increase the submarine's combat potential and improve its performance," the source said.
The Project 1650 Amur is an export version of the Project 677 Lada. The leading submarine in the Lada Project, the Saint Petersburg, was built on the stocks of the Admiralty Shipyard in December 1997. The submarine was designed by Rubin CDB ME. The ceremony for launching the ship into the waters of the Neva was held in October 2004. The first phase of running production tests was completed in December 2005. In August 2008, production sea trials for the submarine, held to verify the operation of new electronic weapons systems, were successfully completed at a special testing site in the Gulf of Finland.
The submarine has a displacement of 1,765 tons and is 67 metres long and 7.1 metres wide, with a submerged speed of -21 knots, surface speed of -10 knots, maximum depth of 300 metres, and endurance of 45 days.
The submarine is equipped with six 533 mm caliber torpedo launchers (with an ammunition load of 18 torpedoes). The propulsion motor has a capacity of 4,100 kilowatts. The submarine uses a new type of anechoic plating on the frame to ensure high-stealth navigation.
According to experts, the submarine is distinguished by its high combat power, enhanced concealment, great endurance, and cruising range. The noise level is several times reduced from previous projects, and the Saint Petersburg is the first submarine in the world equipped with systems to ensure environmental safety.
All rights reserved by Rossiyskaya Gazeta.