Russian space designer Boris Chertok dies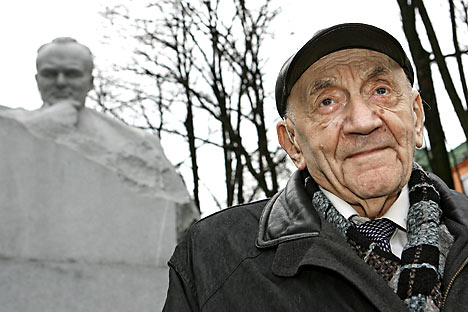 Boris Chertok in front of the monument to Sergey Korolev in Baikonur, Kazakhstan. Source: ITAR-TASS
Boris Chertok, who had played a key role in engineering Soviet-era space victories, died at the age of 99.
For many years, Chertok served as a deputy to the Soviet space program, Sergei Korolyov. He was involved in putting the world's first satellite in orbit on Oct. 4, 1957, and preparing the first human flight to space by Yuri Gagarin on April, 12 1961.
Even the names of Chertok and other leaders of the space program were a tightly-guarded secret, and he only was permitted to travel abroad only in the late 1980s, after Soviet leader Mikhail Gorbachev liberalized the Soviet Union.
In recent years, he has frequently appeared on national television and participated in events marking historic achievements.
Chertok, who specialized in control systems for rockets and spacecraft, has published memoirs chronicling the rise of the Soviet space program from its early days to the moon race the Soviet Union lost to the U.S.
"Each of these first rockets was like a beloved woman for us," Chertok said at a meeting with reporters. "We were in love with every rocket, we desperately wanted it to blast off successfully. We would give our hearts and souls to see it flying."
All rights reserved by Rossiyskaya Gazeta.