It's time for India-Russia-China axis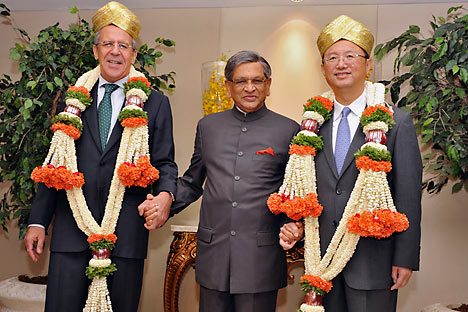 Russia's Foreign Minister Sergey Lavrov, India's Foreign Minister Somanahalli Mallaiah Krishna and China's Foreign Minister Yang Jiechi pose before their meeting in the southern Indian city of Bangalore. Source: Reuters
There may be some notes of dissonance from time to time, but with the shifting gravity of power to emerging economies, there is a compelling need for reducing mistrust and deepening cooperation between India, Russia and China, says Tarun Vijay
The year is ending with new global challenges and emerging geo-political trends. With Afghanistan continuously on a boil and Pakistan's unstable relations with the US, all eyes are now on the steps India, Russia and China will take to ensure peace and stability in the region. Can Mr Putin's ascendency to the presidential palace in Kremlin and Mr Xi Jinping's emergence as the new strong leader of China help us put the strategic scenario in order? The more we see new emerging conflict zones and a stressed out US foreign policy's inadequacies, the greater one feels the need for cooperation between India, Russia, China. This is the future for us, paving the way for replacing distrust with cooperation and mutual dependency for the greater good of the regional power balance. It also satisfies the need to relocate and redefine the old ties of friendship like the one India and Russia had since the days of the time-tested India-Russia Friendship Treaty.
It's significant that in spite of domestic political constraints Prime Minister Manmohan Singh kept his date to meet Prime Minister Putin in Kremlin during his Russia visit (15-17 December). This visit was at the invitation of President Dmitry Medvedev for the annual bilateral Indo-Russian summit. It only shows the cementing of the trust between both countries that makes them work closely in spite of hiccups like the local agitation over the Kudankulam nuclear plant and issues relating to INS Vikramaditya.
About the author
Tarun Vijay is an MP (Rajya Sabha), National Spokesperson of the BJP and Honourable Director of Dr. Syama Prasad Mookerjee Research Foundation. Mr. Vijay is a regular columnist for more than 22 newspapers and the author of over 2,000 articles in English and Hindi in national media.
Significantly, a week before Manmohan Singh's Moscow trip, New Delhi hosted an India-China defence dialogue. As the media reported, the dialogue helped 'break the chill" that had set in bilateral defence ties over the past year as both India and China agreed to gradually enhance military relations during a very "friendly and constructive" defence dialogue on Dec 9.
There is no doubt that the strategic and geopolitical scenario has changed dramatically since then. The 'war zones' between Russia and China have melted into the closest ever friendship bowl and India and China are committed to work together and find out ways to solve areas of disagreement through negotiations. China has already overtaken the US as India's largest trading partner and the two countries are confident of scaling up bilateral trade to $100 billion soon. This simply shows the overwhelming power of an urge for economic empowerment and the compelling need to work in harmony to achieve the national goals.
Putin's choice of China as his first overseas stop after making public his intention to run for the presidential office and the extraordinarily warm Chinese welcome to him, later capped with a coveted Peace Award, underlined the amazing recovery of trust deficit between both countries, once described by western analysts as 'on the verge of war'. Prime Minister Putin not only concluded $7 bn trade agreements but gave hope for a crucial gas supply treaty in the near future. Putin's overtures to Pakistan and Bangladesh should also be seen as normalising the regional power balance.
India remains at the core of the Russian diplomacy and concerns expressed at the strengthening of Russian-Chinese relations can also be turned into a positive opportunity for bringing closer the three most important nations -- India, Russia and China -- to work together on strategic issues. Already the BRICS and the Shanghai Cooperation have added new dimensions to broadening cooperation and generated the much-needed mutuality amongst the three partners.
There are some discordant notes, but India and China have agreed to resolve contentious issues through dialogue. Recently the Chinese noises on Dalai Lama's presence at a global Buddhist meet in New Delhi showed continuity in its policy and India too responded with a firmness that has marked its democratic freedom since the Nehruvian days. Such incidents serve a limited purpose of reiterating both nations' known policies and shouldn't be allowed to create new fissures.
It's surprising that while with Pakistan, we have had four major wars and a constant conflict line remains active on the terror and fake currency issues, we still continue with the Track-II diplomacy and talks at the highest levels. On the contrary, with China, Track II exchanges have not found a space and 'threats from China' perception dominates most newspapers and analyses regarding bilateral relations. Except for a 1962 invasion by Beijing, no exchange of fire has taken place on the borders and a wonderful maturity has replaced war zone speeches, paving the way for peaceful cooperation between both countries that includes joint military exercises. Recently at the Durban climate conference, the Chinese and Indian views converged, while the US tried to push the Indian position off the agenda. Another factor that's often missed in India-China relations is the continuity of foreign policy on this front by different regimes over the years. I remember accompanying the then Foreign Minister Jaswant Singh to China in 2002 as a part of his media delegation. The Indian position, so aptly described by Jaswant Singh, needs to be re-iterated to emphasize a broad consensus amongst various India political streams on the need to strengthen relations with China. He said, "The effect of 9/11 and December 13 (terrorist attack on the Indian Parliament) on India-China relations has not been as catalytic. The fact is that both India and China are working towards deepening and strengthening their relations. Both sides are working very closely. As I told Vice Premier Qian Qichen and Foreign Minister Tang Jiaxuan, we have to move away from the shadow of history and to begin to address ourselves to the sunlight of tomorrow, because India and China constitute 40% of the world's population and it is our bounden duty to be responsible and find answers for almost half of humanity."
It certainly shouldn't be taken as a dilution of our well-known stands on contentious issues and we remain committed to resolve them on the negotiating table, like border issues, stapled visas, and Chinese incursions into our areas.
It is noteworthy that in spite of naysayers in Washington and casting doubts on Putin's model of democracy, the Russian position towards the US has seen a perceptible change and Moscow is keen to redefine its US policy in view of the US withdrawal from Afghanistan and the changing global scenario driven by terror issues and the recent 'love me, hate me' symptoms emanating from Pakistan. On Iran and Korea issues too, the Russian position has been against nuclear proliferation. As strategic analysts have noted, "In May 2009, North Korea conducted a successful nuclear test. Most experts tend to believe that soon enough Iran will be able to join the nuclear club. The advent of two nuclear states close to Russia's borders is hardly in line with its long-term interests. Therefore, officials in Russia have made clear their opposition to missile and nuclear programmes of North Korea and Iran. In the Security Council, Russia voted for UN resolutions calling on Iran and North Korea not to develop nuclear weapons. However, unlike the US and some other Western powers, Russia is reluctant to impose tough sanctions, focusing on a political settlement of problems through diplomatic negotiations." (P. Stobdan, IDSA).
Therefore, India, with its vibrant democracy, a proven record of peaceful aspirations, Putin, coming back on the world horizon as the powerful president of the Russian Federation, and the emerging leadership in Beijing under, hopefully, Xi Jinping, can take a lead in firming up the steps in the direction of a fruitful India-Russia-China axis. It helps everyone and in the long run to establish multipolarity in the world order by dispelling mistrusts and building bridges. This is the only way to diminish clouds of future conflicts.
That Russia refuses to kowtow to the US' stance and has flatly disapproved of the US position to have a trade-off on Georgia must be taken note of by Washington as a sovereign right of Russia. Washingtom should avoid making it an issue that could throw both countries into the Cold War-era verbal duel.
All rights reserved by Rossiyskaya Gazeta.