S&T Centre inaugurated in Moscow on the eve of Manmohan Singh's visit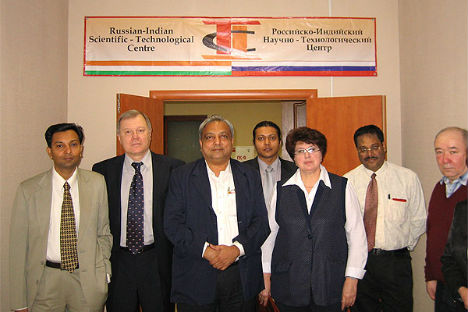 The Russian-Indian scientific interaction is given a new boost, with Russian-Indian Scientific and Technological Centre explicitly addressing technology transfer and commercialization issues.
India and Russia have been cooperating in Science & Technology for several decades, ever since Science and Technology agreement in 1972. Direct interaction between scientists and scientific institutes was encouraged by concluding the Integrated Long Term Programme of Cooperation (ILTP) at the highest level by the then Prime Minister of India and General Secretary of communist party of Soviet Union in 1987. Technology exchange between the two countries in the spheres of engineering materials, electronics, laser science and technology, catalysis, space science and technology have been significant.
The inauguration of the Russian-Indian Scientific and Technological Centre on December 15 in Moscow on the eve of the official visit to the Russian Federation by the Prime Minister of India Manmohan Singh is another important event in the framework of the Russian-Indian scientific and technological cooperation.
It may be recalled that the flagship programme of Indo-Russian S&T Cooperation, Integrated Long-Term Programme (ILTP), has already resulted in successful completion of over 500 joint R&D projects, including the setting up of 9 joint R&D centres in India. During the 2010 Summit meeting the ILTP programme has been extended for further 10 years, with particular focus on innovative technologies. However, the existing programme does not explicitly address issues related to technology transfer and commercialization.
The Russian-Indian Scientific and Technological Centre is to build on existing linkages between Indian and Russian scientific establishments, to facilitate and channelize commercial /industrial applications of technologies developed in the two countries.
The Ambassador of India to the Russian Federation Ajai Malhotra stated: "This new Center will seek to commercialize the results of joint India-Russia R&D efforts. This initiative is of particular importance to both countries in their effort to encourage innovation and modernisation".
This would include innovative technologies developed jointly or independently by Indian and Russian scientists. Hence, the Centre is expected to be of considerable mutual benefit. It was also announced that a similar centre would be opened in New Delhi early next year. Both units will work in close coordination to intensify interaction between Indian industry and Russian scientific/production institutes and will go a long way in meeting mutual needs.
All rights reserved by Rossiyskaya Gazeta.