Dev Anand: A Wayfarer in Russia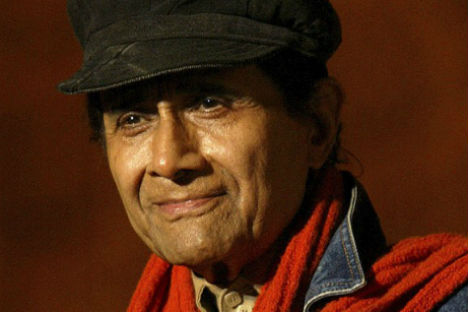 Not many know about the Russia connection of iconic Indian actor Dev Anand, who died in a London hotel early this month. Dev Anand visited Russia as part of then Indian Prime Minister Jawaharlal Nehru's delegation in 1954. He married in Russia and his film "Rahi" struck a special chord with people in Soviet Union, writes Dadan Upadhyay.
When the legendary Bollywood actor Dev Anand died in London on December 6 at the age of 88, there was a deluge of tributes and commentaries chronicling the myriad achievements of the evergreen star, who captivated generations of Indians. But there was hardly any mention of Dev Anand's Russia's connection.
The dashing film star, known for his rakish playboy charm and fine acting, visited the Soviet Union as part of an Indian film delegation in 1954 when films were mostly made in that country to promote the Communist ideology. Dev Anand's brother Chetan Anand, Raj Kapoor, Nargis and Balraj Sahni were part of the 14-member delegation.
The popularity of Hindi films, replete with song-and-dance escapist fare, in the Soviet Union in the 1950s and 1960s was truly amazing and struck a chord with people living in a closed system. In fact, 800 prints each of Dev Anand's film Rahi (The Wayfarer) and Raj Kapoor's Aawara (Vagabond) were released in all the languages of the 15 Soviet republics. The adulation Indian films got and the spontaneous enthusiasm of people was simply overwhelming.
For Dev Anand, Russia was to have an enduring emotional and personal resonance. It was in this country that he married Kalpana Kartik (original name Mona Singh) in a quiet ceremony when they were on a tour to screen Rahi and Aandhiyan (Duststorm). Kalpana was a college beauty queen from Shimla, and she starred opposite her to-be-husband in all her movies.
Both became parents in 1956 and their first son Suneil was born. Later, they were blessed with a daughter named Devina, which also means "girl" in the Russian language.
Aawara and Rahi became so famous and popular across the country that when in 1955, India's first Prime Minister Pandit Jawaharlal Nehru visited Soviet Union, he took Dev Anand, Raj Kapoor and Dilip Kumar, the legendary trio of then Bombay film industry, as part of his delegation. To his amazement, Nehru found that the whole country was singing "Aawara."
It was not a coincidence that Nehru included Raj Kapoor, Dev Anand and Dilip Kumar in the cultural delegation accompanying him on his first official visit to the Soviet Union in 1955. The "trio" had already made a big impact on the people throughout India through their leading roles in Hindi films, sympathyzing with common and downtrodden people and conveying the message of socialist egalitarianism, love and freedom. Their roles in films resonated well with Nehru's socialist ideology and will later strike a chord with Russians.
Although not politically active in those days, Dev Anand had already joined the left-leaning Indian People's Theatre Association (IPTA) with his brother Chetan Anand. Formed during the Quit India Movement in 1942, the IPTA's declared mission was to bring theatre to the masses with the objective of creating awareness about social responsibility and national integration. It soon became a popular movement, attracting young people with its socialistic and nationalist fervour.
The IPTA movement left a lasting impression on Dev Anand, who deftly articulated in his films the people's yearning for freedom, economic and social justice and a democratic culture. Dev Anand's Rahi and Dharti Ke Lal (Children of the Earth), both released in Soviet Union, were watched and liked by millions of people because these films epitomized universal emotions of love, freedom and human sympathy for the deprived and marginalized. Rahi was also India's official entry to the first-ever Venice and Moscow International Film Festivals, in 1954.
"When Panditji came back (from Soviet Union) and we met him at a party," writes Dev Anand recalling those historic days when he visited Russia with Nehru, in his autobiography "Romancing with Life" (2007). "I was at the same table as him and he was smoking away with his typical cigarette holder. People were asking when he went to the Soviet Union how come Raj Kapoor was so famous," he writes.
What Dev Anand, who was often compared to the legendary Hollywood actor Gregory Peck, does not say here is that he was equally famous in the Soviet Union, his memorable role in "Rahi," a story weaving romance, revolution and idealism, winning thousands of admirers in that country.
All rights reserved by Rossiyskaya Gazeta.