The summary of Manmohan Singh's 3-day visit to Russia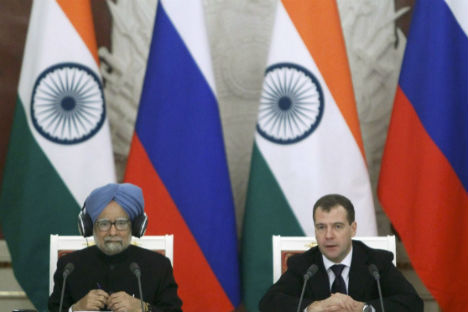 Prime Minister Dr. Manmohan Singh and President Dmitry Medvedev signed five agreements after the bilateral summit level talks on December, 16.
These agreements included two protocols, two memoranda of understanding and one pact related to exchange in education.
The first deal clinched between the two countries during the annual meeting was an inter-governmental agreement on the production of 42 more Sukhoi-MKI 30 jets by Hindustan Aeronautics Limited.
A MoU (Memorandum of Understanding) between the Competition Commission of India and the Federal Antimonopoly Service (Russian Federation) was the second agreement signed between India and Russia. The primary objective of the MoU is promoting cooperation and exchanges between the two anti-monopoly agencies.
The Department of Science and Technology, Government of India, and the Interregional Association "Siberian Accord" Siberian Federal District, Russian Federation, signed a Protocol of Intentions which aims at facilitating development and application of technologies for utilization and safe management of fly ash in the Siberian Federal District and envisages experience sharing, investment projects and mutual exchange of scientific personnel.
A Memorandum of Understanding on cooperation in the pharmaceutical field overseeing the safety and quality issues between the Central Drug Standard Control Organization, India, and the Federal Service for Surveillance in the Sphere of Public Health and Social Development, Russia.
The fifth agreement inked between India and Russia was an educational exchange programme between the Ministry of Education and Science of the Russian Federation and the Ministry of Human resource Development of the Republic of India on cooperation in the field of education. The purpose of the agreement is boosting cooperation in the field of education via inter-institutional arrangements, experience sharing in the sphere of pedagogy etc.
One of the crucial issues on the agenda during the talks was the uncertain situation around the Kudankulam nuclear power station. Manmohan Singh cleared up this question stating that the first power unit of the protest-hit plant will be launched in a "couple of weeks" but India and Russia did not sign any agreement on construction of the third and fourth units.
Russia also supported India's bid for a permanent seat in an expanded UN Security Council as well as its intentions to join the Shanghai Cooperation Organisation, while India welcomed Moscow's entry to the World Trade Organization.
Manmohan Singh congratulated his counterpart, Mr. Vladimir Putin, on the victory of his ruling party "United Russia" in the December 4 parliamentary election, during their meeting later that day.
All rights reserved by Rossiyskaya Gazeta.