Why we have finally fallen out of love with Europe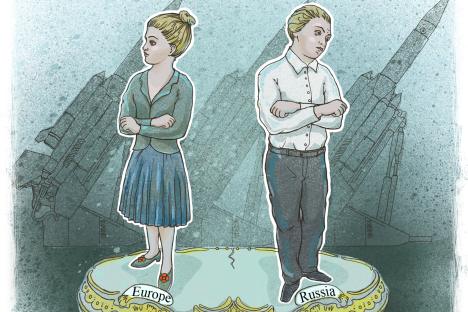 Source: Drawing by Natalia Mikhailenko
The financial crisis has triggered an upsurge of national egoism in the EU, with all the members showing that they are really only concerned about their own well-being.
Russia no longer sees itself as part of modern Europe. The idea of creating a common European space from Vladivostok to Brest has failed. The ongoing rapid change of the European model prompts Moscow to take any long-term projects involving Europe with a big pinch of salt.

Most Russian political analysts agree that bleak times lie ahead for Europe. The financial crisis has triggered an unprecedented upsurge of national egoism in the European Union, with all the members showing they are really only concerned about their own well-being. The German-French alliance does not have enough power to rescue the economy of the whole of Europe. But regardless of whether or not the EU will become a network structure whose members only take part in those programmes that are good for their countries or whether, conversely, control of the European Union will be centralised still more, Russia will have to review its relations with that organisation.

Foreign Minister Sergei Lavrov's recent visits to Bonn, where he attended an international conference on Afghanistan; to Vilnius, to attend the Conference of the Organisation for Security and Co-operation in Europe; and to Brussels, to attend the Russia-Nato Council, have shown that partnership between Russia and Europe is under severe strain. Moscow's attempts to uphold its strategic interests are openly opposed by the EU states which tend to ignore these interests. The Europeans take their cue from Washington. The guiding principle "what is good for America is OK for Europe as well" was very much in evidence at all of the international meetings in which Mr Lavrov took part.
The weakening of Europe and its creeping self-liquidation as an independent international policy player makes Moscow focus more on what is happening in Washington. Such a strategy clearly goes against the grain with some countries that are Russia's traditional partners in Europe. But at the end of the day, constrained as they are by European discipline, they are unable to offer Russia anything. The only project on which Russia and Europe could be strategic partners for decades to come is the European missile defence system. However, under US pressure the Europeans have refused to co-operate with Moscow on that issue.

The confidence crisis between Europe and Russia is obvious and is likely to worsen. Many co-operation programmes that have already been launched are plagued by inertia, and hardly any new programmes are appearing. The lack of progress in key areas directly relevant to Russian security will inevitably lead to a shrinking of co-operation on the whole spectrum of bilateral relations with the West.

Even so, the scenario under which Europe will cease to be Moscow's strategic partner and become a potential enemy is unlikely. If Putin is elected president of Russia, we may see a gradual curtailment of certain marginal areas of co-operation. However, the main issues – the fight against terror, drug trafficking, cargo transit to Afghanistan – will not be revised. Russia will protect its geopolitical interests but, above all, will be focused on the regions that it considers to be its traditional zones of influence. By the same token, Moscow will continue its attempts to come to terms with the US on the general standards of behaviour in the world, because it no longer makes sense to discuss this topic separately with the 
European Union.

One cannot rule out the possibility that Russian business will see the economic weakening of the EU as a chance to expand its sphere of influence. In spite of the unfavourable political climate it will continue its investment expansion into Europe. But, obviously, such moves will be agreed with the Kremlin first. The situation will be like that between Moscow and London, where Russo-British political differences have not led to a fall in economic co-operation. It is fair to assume that a similar partnership model will be used in the event of a negative scenario in relations between Russia and the EU.

Agreements on a European missile defence system may be a key decision capable of restoring Russia's trust in the new-look European Union. Moscow believes that the West's refusal to give legally binding security safeguards when deploying anti-ballistic missiles threatens its strategic interests. If, during the Nato summit in Chicago in 2012, the Europeans agree with the US administration on safeguards for Moscow, or at least adopt a roadmap for implementing safeguards, that could represent the starting point for other joint projects between Europe and Russia.

Another positive step is Europe's desire for help from Russia in solving the EU's economic problems. One way forward could be to revive the "European troika", with Russia, France and Germany taking part.

Finally, Europe will need to renounce the artificially fomented wartime fears that "the Russians are coming". The integration of Russia into the economy of a renewed European Union will enable both sides to overcome their mutual mistrust and will greatly increase the number of issues on which Moscow and Brussels will be able to co-operate successfully in the future.

Yevgeny Shestakov is editor of the international politics desk at Rossiyskaya Gazeta.
All rights reserved by Rossiyskaya Gazeta.