Indians bring Medvedev closer to his dream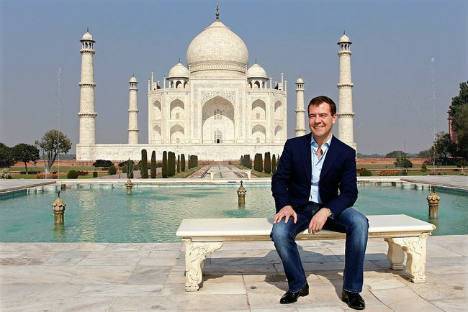 Russian President Dmitry Medvedev has been awarded an honorary PhD by India's Jawaharlal Nehru University, ITAR-TASS quotes head of the Indian association of teachers of the Russian language and literature Ramadhikari Kumar. In order to receive the diploma and insignia, the Russian state leader should come to India, but it is not clear whether he will manage this in his capacity as President.
According to Kumar, the proposal to award an honorary PhD to Medvedev was made back during the Russian President's visit to India in December 2010 but, since the visit was rather short, the academic council did not manage to approve the initiative.
Now India hopes to present Medvedev with a diploma and insignia of his honorary PhD during his next visit to the country. Medvedev may still have time to come to India as Russia's President during the next BRICS (Brazil, Russia, India, China and South Africa) summit, which is scheduled to take place in India in 2012. The previous summit was held in April, whereas, since the early 2000s, the Russian president-elect has been traditionally inaugurated in May. Medvedev will not run for the presidency in 2012, as he has ceded this right to Prime Minister Vladimir Putin. By the way, when visiting India in 2000, then President Vladimir Putin also became an honorary PhD at Jawaharlal Nehru University.
Medvedev was previously awarded the title of an honorary Doctor of Law by St. Petersburg State University and honorary Doctor of Law by Korea University (South Korea). In April 2011, Medvedev confessed that, upon completion of his political career, he would like to take up teaching, specifically at the Skolkovo innovation centre.
"If, by that time, everything works normally there, I would definitely like to teach there. I would like to teach not only at Skolkovo but also elsewhere, for I believe that, for any politician who has headed a country, it is an absolute must to share his experience, both negative and positive", Medvedev told the Dozhd television channel.
Once in a while, Medvedev manages to fulfill his teaching ambition. For instance, on 1 September 2011, he gave a lesson in state symbols and a master class in photography to cadets at a training school in Stavropol.
In October, the President gave a badminton lesson to the entire Russian Internet community by recording a foreword to the training film "ABC of the Shuttlecock". After that, Moscow officials promised that all schoolchildren in the capital would be given lessons in the "presidential" sport.
All rights reserved by Rossiyskaya Gazeta.