Social networks: pressure or routine control?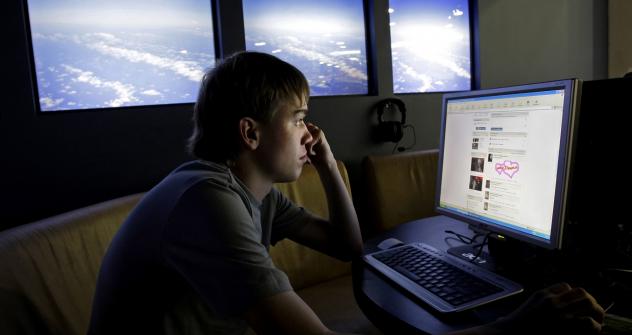 Social networks are becoming a good tool of bringing people together to coordinate their civil activity. Pictured: Nikita Glushik, 19, visits Russian site Vkontakte at an Internet cafe, Moscow. Source: AP
Will more protests cause more problems for Russia's social networks?
After historic protests earlier this month, activists alleged that Russia's Federal Security Service (FSB) repeatedly tried to interfere in the activity of some social networks to block opposition groups supporting mass demonstration against the 2011 elections. Many are concerned that the next protest, scheduled on Dec. 24, will result in new pressures on social networks such as Vkontakte, known as Russia's Facebook.
Before post-election protests in central Moscow, some Russian media outlets, blogs and social networks had their websites blocked or attacked by hackers. Four days before the large-scale demonstrations on Bolotnaya Square, the FSB allegedly pushed Pavel Durov, a founder the social website VKontakte, to assist in blocking the opposition. Durov said that the Russian secret police had demanded that his site ban online opposition groups supporting post-election protests, as well as vocal anti-corruption blogger Alexei Navalny - who had been arrested before during the protests near the Chistye Prudy metro station. Yet Durov refused to ban opposition groups and, moreover, published a copy of the police order.
Durov was ordered to appear at a prosecutor's office. Afterward, the Vkontakte press service seemed to tone down Durov's initial statements, stating that the secret police only made some "routine requests." If something "doesn't meet our principles and contradicts the law," the company has the right to reject these requests, said Vladislav Tsypluhin, the social network's press-secretary. In reality, he added, FSB asked to ban only those groups that provoked violence and unrest in the streets.
"This is not the first instance of pressure on social networks," said Alexander Morozov, a well-known blogger. "Last summer we witnessed Yandex [Russia's largest search engine] face the same problems. The FSB requested the information about Alexei Navalny's personal account and all his transactions."
According to Morozov, Durov's public refusal to ban opposition groups was the kind of response that is good business for his company. Given the interest of foreign investors in Russia's Internet projects and its international heft, this move will only attract foreign investors and result in positive consequences for its capitalization. "It is essential for foreign investors that Russia's Internet projects have some safeguards from FSB's undesirable interference," Morozov argued.
He added that "the FSB has the right to control some processes in the social media related to extremism. On the other hand, the FSB cannot abuse its power and interfere with citizens' activity [such as the organizations of peaceful demonstration via the Internet] without bringing about negative consequences."
The Russian government is allowed to monitor private, online correspondence if there is suspicion that the communication could lead to instability. The so-called system of operative investigative activities (SORM-2) introduced in 2000 is a program that allows Russia's federal security agencies to force Internet service providers install special devices, which help track all e-mail messages and private correspondence on social networks.
Social networks were used as a tool to coordinate the Manezh Square public unrest in December 2010 when about 10,000 nationalists and footbal fans took to the streets in response to the murder of a Russian football fan. These protests gave the authorities a reason to change Russia's criminal legislation regarding the dissemination of extremist information on the Internet.
The amendments to the Criminal Code proposed by the State Duma could complicate the life of most Internet users by extending its provisions not only to registered mass media, but also to unregistered blogs including those in social networks. This move sparked the fear that the Kremlin would impose more restrictions on the freedom of the speech in Internet before the 2011 parliamentary elections and the 2012 presidential campaign.
Morozov defended the bill as a good tool to prevent the spread of the extremism information in the Internet and at the same time criticized it as probable tool of censorship. "Definitely, bloggers should be responsible for their instigation to violence and extremism in social networks and forums which are overwhelmed with aggressive and nationalistic rhetoric," he said. "But the punishment should be fair towards those responsible for the spread of extremist information and shouldn't turn into political censorship."
Yuri Korgunyuk, expert at the Indem think tank in Moscow, said that government efforts to interfere in the social network's activity before the Dec. 24 protests will not be effective this time. "The authorities' request to monitor social networks before demonstrations has been common in our country," he said. "This practice is not new and hardly likely to be changed. But it won't bring any positive results."
The government should come up with more reasonable measures to establish dialogue with the people, he added.
"I don't think that social networks pose any threat for the society," Morozov said. "Most of registered users are belonged to young audience comprising high-school students and different interest and ethnical groups." Vkontakte is not engaged in subversive or extremism activity that can undermine stability, he said. "We should understand that even though a group of people registered in the social network share some radical or aggressive views such as nationalism, it shouldn't be banned because these communities are legal and their members don't necessarily commit the crime. Police should deal with persons who instigate violence and crime, not social networks."
Morozov added that government measures will not prevent people from assembling for future protests. He hopes that upcoming demonstrations will bring more people than previous ones did.
All rights reserved by Rossiyskaya Gazeta.