Russia's sacred music reaches the Potomac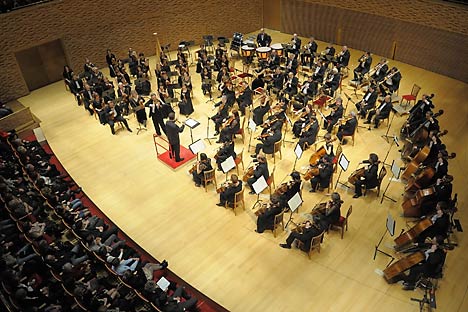 Ural Philharmonic performs at the Kennedy Center. Source: Press Service of Ural Philharmonic Orchestra
The Ural Philharmonic performs with the Washington Choral Arts Society in a program that repeats on Christmas Eve.
Mezzo-soprano Irina Shishkova's transporting rendition of Sergei Rachmaninoff's "Ave Maria" on Dec. 21 was especially poignant considering that Rachmaninoff's "Vespers," of which "Ave Maria" is a part, is considered the last testament of Russian liturgical music before it was exiled and silenced for a good 70 years.
The Washington Choral Arts Society collaborated with the Ural Philharmonic Orchestra and Shishkova to create a powerful yet accessible Russian program during its annual Christmas concert at the Kennedy Center in Washington, DC. Every year for the past 31 years, Choral Arts has worked with a different embassy to create the program, and this year Russian Ambassador to the United States Sergei Kislyak lived up to his growing reputation as cultural emissary.
"This particular ambassador [Kislyak] is not only a great diplomat but he is extremely knowledgeable about music," said Debra Kraft, executive director of Choral Arts.
Rachmaninoff's "Vespers" was followed by sacred music created since the collapse of communism two decades ago. Two movements of "Christmas Oratorio," written by Russian Orthodox Archbishop Hilarion Alfeyev, were performed under the baton of the Ural Philharmonic's conductor Enkhbaatar Baatarjav.
Another moving work, "Cradle Song," was a wistful lullaby: "Sleep, my little one, my pretty one, Hushabye/While the clear moon silently peers into your cradle," Shishkova sang in Russian.
This year's concert was the second time in the past decade that a Russian ambassador has offered his patronage to the Choral Arts, but Kraft said she was stunned when Ambassador Kislyak offered to bring an entire orchestra over from Russia to perform – as a gift.
"We were really surprised when the ambassador said he was thinking of bringing over an orchestra," to perform with Choral Arts, Kraft said. "Choral Arts is a tiny organization. We are small but mighty, and we have this wonderful international stage. We are also a flexible organization and we can make something like this happen." She added that when she finally heard the Ural Philharmonic on CD, she was swept away.
The Ural Philharmonic Orchestra, based in Yekaterinburg, is considered one of the best orchestras in Russia, but only in recent years has begun touring to great acclaim. While the most talented musicians of the Soviet Union worked with the orchestra, it was also performing in a closed city of military manufacturing that for the most part did not allow foreigners.
Kislyak "thought it was important that music from the rest of Russia become known," Kraft said.
The Dec. 21 concert, which included some sing-a-long caroling of familiar songs like "Joy to the World," ended on a playful note, with an effort to teach the audience "Silent Night" in Russian. With the awkward exception of the line, "V Vifleyemskom vertyepe lezhit" (He lies in a Bethlehem manger), which became a cacophony of dangling syllables, the audience performed admirably.
The program repeats on Dec. 24, and the Christmas Eve concert will also feature also features a 45-minute bonus orchestral performance of Rimsky-Korsakov's Scheherazade after a brief break following the conclusion of the choral concert program.

For more information and to purchase tickets, click here.
All rights reserved by Rossiyskaya Gazeta.