Soviet propaganda comes to America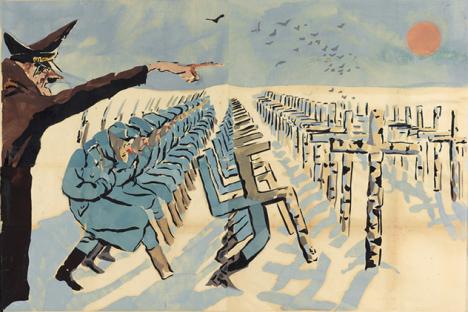 Soviet poster art from 1941-1945 is being rediscovered.
Soviet Posters from World War II enliven a Chelsea gallery in New York
Chelsea's prominent Andrew Edlin Gallery is currently offering a unique chance to view Soviet war posters with its exhibit "Die, Nazi Scum! Soviet TASS Propaganda Posters 1941-1945." The collection of World War II posters, forming a direct message to the Third Reich and the Nazi machine, were produced by the nation's greatest talents--on order of the Soviet government.
Formed by popular Soviet artists, writers and poets in 1941, Okna TASS Studio played a significant role in the course of the war, successfully raising the fighting spirit of the Red Army, as well as millions of homefront workers. One of the most powerful ways to express the spectrum of emotions toward the invaders was through satire. Some of these witty caricatures of enemies became iconic.
One poster features Napoleon speaking haughtily to a pitiful looking Hitler: "There is only one smiliarity between you and I, Adolf – we both had our asses kicked by Russians." On another poster, seemingly hot, thick red liquid is poured on a fallen Hitler whose features are deliberately likened to those of a rat with the slogan underneath reading: "We promise to the people and army to slash the fascists' throats!"
Artists "have a special ability and responsibility to respond to this kind of event in the world," said curator and gallery ownder Andrew Edlin. "I think the contemporary art-world tends to be a little too self-involved. When artists do take advantage of their special talents to respond to what's going on in the world, as these artists did, it's just incredibly powerful."
During the war, Okna TASS Studio produced a poster almost every day, which resulted in 1,240 works after 1,418 days of war, mostly hand-made stencils as oppose to machine lithography.
"Anybody who knows anything about history, knows, that if it weren't not for the Red Army and the Russian people, we would not be here, everything would be different about the world," Edlin said. "New York City, Chelsea is the center of the art world, and in this context, these works hold up as good as anything that's in the neighborhood, on the basis on the art itself, the subject matter, the depth. These works are an incredible thing and I am really happy to have this show."
Xenia Vytuleva, a New York-based Russian art historian and curator, wrote an essay for the catalog that accompanies the exhibit. "I was impressed by Andrew's intuition, " she said. "Putting the Soviet Anti-Nazi propaganda posters in the context of the white cube of a Chelsea Gallery is an artistic gesture per se as well as a political statement."
Edlin's space on lower 10th Avenue is located across the street from New York's Highline and a host of high-end galleries. "Die, Nazi Scum!" was scheduled to close on Jan. 7, but due to public interest, the show has been extended through Jan. 14.
All rights reserved by Rossiyskaya Gazeta.