Second mass protest adds momentum to Russia's civilized revolution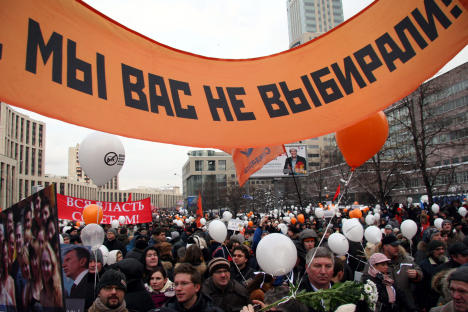 Protesters express their collective indignation against vote fraud during the 2011 parliamentary elections. Source: Russia beyond the Headlines / Tatyana Shramchenko
What did the recent large-scale protests result in?
The second mass demonstration in central Moscow finished peacefully and on time adding momentum to Russia's civilized revolution.


Estimate of the numbers remain vague, but what is clear is more people arrived at Sakharov Prospect than attended the previous demonstration on Dec. 10. The official headcount was 30,000 while the organizers claim 100,000 demonstrators turned out.


The police presence was roughly the same as during the previous protest on Bolotnaya square with 40 buses of policemen and a helicopter hovering over the prospect. According to police there were 29,000 and according to organizers more the 100,000. Blogger Andrei Navalny even mentioned 120,000 protestors, but bne staff estimate the crowd was only a bit bigger than on Bolotnaya Square, maybe about 60k people.


Smaller rallies were held in other cities like Vladivostok where 2000 people have taken to the streets despite the -20C weather and driving snow. Thousands more have signed up via social networking sites for protests in more than 80 Russian cities.

Alexei Navalny anti-corruption fighter and blogger gave his inaugural address to the crowd and was well welcomed. In a provocative speech he called for a million people to come on to the streets in the next demonstration and demanded fresh parliamentary elections. He also called on the people to boycott the presidential vote and not to cast a single vote for Putin.


"We know what we will do. We will go out onto the street until they give back what is ours. Next time, we will bring one million people onto the streets of Moscow," he said to cheers. "We do not want to scare anyone. But I promise you that next year the leaders will change and power will belong to those to whom it should belong. Power will belong to the people!" reported AFP.


Former finance minister Alexei Kudrin had a similar message for the crowds calling for political change in an organized way but to avoid "revolution," he said.

"There are a lot of slogans here but less action," Kudrin told the crowd. "You can't just talk. You've got to start doing something... creation of a platform for dialogue is needed. Otherwise there will be revolution, otherwise we lose the opportunity before us today for the peaceful transformation and the trust that are necessary for a new leadership that will be elected."


The former finance minister said the reform process needed to begin with passage of new laws on political parties followed by legal registration of those parties and an election campaign.


"Only after that can we hold elections," Kudrin said, calling for the resolution adopted after Saturday's rally should contain a call for early parliamentary elections.


Even Ksenia Sobchak called for pressure but not revolution and called on the crowd to maintain the pressure but in an orderly fashion.


Russian oligarch Mikhail Prokhorov appeared but didn't speak to the crowd, instead he talked to individuals in what looked like a classic bit of "meet the people" campaigning.


At the end of demonstration organisers approved resolution:
1. authorities must release all political prisoners
2. cancel the results of the December 10th parliamentary election
3. Central Elections Commission Head Vladimir Churov must resign
4. new election should be held as soon as possible
5. all oppositional parties should be registered.


The main slogan shouted by the crowd as: "no voice for Putin!"


Talking to the crowd there was no feeling of slowing of momentum. "I was really inspired by [the previous demonstration] Bolotnaya Square," said one demonstrator."I was not interested in politics at all until then."


The mood of the crowd was also switching from 'any one but Putin' and 'any party but not United Russia' to more constructive. But both protesters and organizers admit there is still no party or leader who could beat Putin in a straight election right now.


Amongst these have been calls for the sacking of Churov who is widely seen as orchestrating the ballot stuffing in the Dec. 14 Duma elections – a demand the Kremlin appears to willing to meet.


The call for a re-run of the Duma election is so far not on the table, but Russian president Dmitry Medvedev came out on Thursday with a large package of "mass reforms" to the political system that will "decentralize" the political system by devolving more power to the regional authorities. Amongst the changes will be the re-introduction of elections for regional governors that Putin nix on taking office in 2000.


A crackdown on the opposition to curb the movement now seems more unlikely, even if the Kremlin will attempt to play a balancing game between concessions and low level harassment movement in an attempt to limit its effectiveness.


The diversity of speakers nevertheless were all on the same message and it is hard to see how the Kremlin will be able to ignore responding to these demands to some extent. The pressure is now likely to build towards the presidential election in March, which will be tense as Putin will have to fight a real campaign.
All rights reserved by Rossiyskaya Gazeta.