European investment in Russia: Patience pays off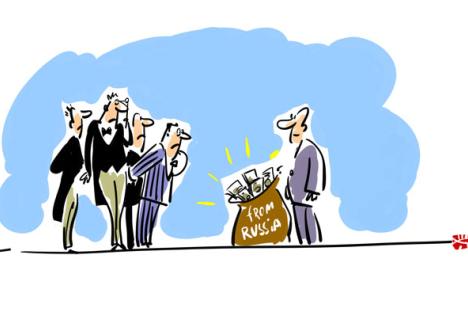 Source: Drawing by Alexey Iorsh
Although some investors are pulling out of Russia in the face of political uncertainty, the past 15 years have shown that those businesses who are willing to look to the long-term can reap big dividends.
History often repeats itself in words, if not in deeds. In 2008, in the midst of the global recession, Russian leaders claimed that the country would remain "an island of stability" as if world oil prices were manipulated not from the Wall Street but from the Kremlin. Western media then reported that Russia's economy looked good even from Davos. However, after oil prices dropped in 2009 to $61.8 per barrel, the country's GDP contracted by 7.8 percent.
This year, according to recent estimates from the Organization of Economic Cooperation and Development (OECD), Russia's GDP will grow by 4 percent while next year growth should be just a little higher, at around 4.1 percent. If the OECD forecast proves accurate, this is sufficiently good – especially when compared to the eurozone, where GDP grew by 1.6 percent this year and is predicted to grow a miniscule 0.2 percent next year.
How the oil market will react to the ongoing global downturn is anyone's guess, just as none can predict the oil-price-sensitive performance of the Russian economy next year. However, there is evidence to suggest that despite global turmoil, Russia will remain an attractive, albeit risky, destination for foreign direct investment (FDI). And the crisis-stricken European Union will be a major source of such investment. A survey conducted by the Association of European Businesses in Russia (AEB) and the Institute for Market Research concluded that 72 percent of surveyed companies increased their investments in 2011 and said they are optimistic about their Russian business in 2012. Although the European crisis might contribute to slower growth in Russia, so far the economic situation remains stable, according to AEB CEO Dr. Frank Schauff.
"The AEB member-companies are successful practically in all sectors of the economy. They are now interested in different opportunities, not only in energy markets, as it used to be in the end of 1990s, but in a wide range of industries," Schauff said.
The European companies' optimism about Russian business is validated by bilateral macroeconomic impact. The EU is Russia's largest trading partner, and Russia is the third-largest partner for the European trading bloc, following the United States and China. Trade with the EU accounts for 52.3 percent of Russia's total foreign trade turnover and 75 percent of FDI, which now exceeds $100 billion. The steep growth of EU-Russia economic exchange in the last decade was interrupted by the 2008-2009 recession, but it quickly recovered in 2010, mostly because of structural differences in trade. Last year, imports from Russia were mainly natural gas and fuel products (75.5 percent) and other raw materials, while EU exports to Russia were more diversified.
Among the most successful strategic investors in Russia are automotive companies. According to the AEB Automobile Manufacturers Committee, the sales of new cars and light commercial vehicles in Russia grew by 30 percent in 2010 and nearly 40 percent in 2011. About half of the 2.6 million cars and light commercial vehicles sold in Russia this year and 2.8 million units projected to be sold in 2012 are European models. The importance of FDI for the Russian automobile industry is underscored by the fact that among the top 10 best-selling car models, nine are now produced or assembled in Russia.
European construction equipment industry companies have also seen their Russian business recover from the 2009 slump. Housing, office and industrial construction along with infrastructure development projects in Russia are taking off again, and David Hill, chairman of the AEB Construction Equipment Committee, thinks that although 2012 is a difficult year to predict, growth will continue if the current trend remains positive – albeit at a much slower rate.
The accelerating demand for cars and new residential construction highlights one important advantage of the Russian consumer market over other developing economies, like China – rising consumption due to higher wages. At the same time, many European investors find it more difficult to work in Russia than in other emerging countries because of corruption, tight administrative control and a shortage of skilled workers among other problems, according to AEB CEO Schauff.
Since the start of the century, there have been a number of projects for establishing closer EU-Russia relations. The idea of a Common European Economic Space initiated in 2002 was the most ambitious, while the Partnership for Modernization is the most recent one. But whatever schemes Brussels and Moscow suggested or discarded, they could only be successful if implemented on the microeconomic level – by European and Russian companies. It is businessmen who make things happen when their hands are not tied by red tape, customs barriers or other obstacles. A favorable business climate is especially vital for small- and medium-sized enterprises (SME) that, in contrast to big businesses, don't have administrative and financial leverage for conducting business in Russia.
Speaking recently to AEB members about key challenges and success factors in doing business in Russia, Avril Conroy, a veteran of Russian business and the president of the Irish Business Club, made some very important points about the success of SMEs in Russia. She admitted that Russia is not an easy country for doing business – unless you gather ample information before market entry, learn to speak the language, scrutinize potential local partners and be dedicated to your Russian business. According to Conroy, the best guarantor of success in this country is patience.
The emerging political instability in Russia — the disappointing results by the ruling United Russia party the Dec. 4 State Duma elections, the subsequent protests and uncertainty surrounding the presidential elections in March— have already resulted in an increase in capital flight. By rough estimates, capital outflow this year may exceed $90 billion. But those who are pulling out now should take a lesson from the companies that left Russia in 1998. When the Russian economy began to recover, the fugitives had to restore their business operations practically from scratch.
The Russian economy offers too many yet-untapped opportunities in such a wide range of industries that any businessman looking for a good return on long-term investment can't miss a chance to probe this market. Political and economic uncertainties come and go. But patience always pays off.
Felix Goryunov is a Moscow-based economics journalist who has been covering world economy and international trade for over 30 years.
All rights reserved by Rossiyskaya Gazeta.