Easy, fashionable looks in for 2012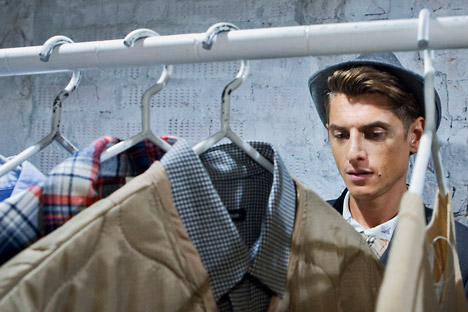 Russian designer Vlad Lisovets. Source: Kommersant
Russian designer Vlad Lisovets gives some tips on how Russian women can improve their look for the New Year.
The tastes of Russian women have been constantly a source of debate: For instance, when foreigners see a Russian beauty in the street, they are prone to note the stiletto heels she flaunts even on icy surfaces, or to pinpoint her blatantly sexy attire, while Russian men (and, truth be told, any man at all) would say simply that Russian women look great and attract attention.
Alyona Samarina of Russia Beyond the Headlines asked popular Russian stylist Vlad Lisovets what Russian women should look like and why fashion is such a hot topic in the country to help us figure out what Russian women should look like. In addition to his work as a stylist with his own chain of salons, Lisovets is a designer and TV presenter.
"I believe that European women are very unconfined in choosing their apparel," Lisovets said. "Sometimes, the signature look of a European woman is even somewhat unkempt, which lends her certain charm and airiness. This is precisely what our women lack. They often go to extremes when they pick overly skimpy and sexy outfits, or dress too conservatively and boringly, or favor extremely flamboyant clothes – too much shine and spangle, which is a synonym of bad taste."
Russian women have a soft spot for voluminous hairstyles and spend a lot of time doing their hair; they often go overboard with makeup. It is undoubtedly commendable when a woman makes a point of grooming herself in an effort to look beautiful, but women should keep in mind that daytime hair and makeup should differ from evening looks.
Russian women should take a closer look at the easy ways of Europeans, in the good sense of the word, and not confine themselves rigorously to a certain image, Lisovets said. "I am very much drawn to the unconcerned faces of European women and their knack of smiling sincerely – something that attracts people and wins them over. The easy ways of European women I have already spoken about, their freedom in choosing clothes, simplicity and lack of aggression.
Lisovets gave a few tips for dressing in the new year.
"The main 'pluses' when it comes to fashion are still elegant footwear – both high and low heels – and a couple of handbags you can carry to any occasions," said Lisovets. "Must-haves also include an overcoat and warm accessories – scarves, hats, and other headwear."
Russian models demonsrating new cloths collection in the Moscow-City business center. Source: Valeriy Levitin/RIA Novosti
Other must-have include:
- Skinny trousers (not necessarily black; maroon, emerald, navy blue and mustard pants are also a worthy choice).
- Comfy mid-heel boots (ginger boots are especially stylish).
- A light-colored overcoat (slightly below knee-length or maxi length).
- Either a blouse or a cardigan.
- A knitted scarf.
- Barely visible light makeup.
- Hair worn down, casually, or a faux fur side cap (or even a stunning hat).
- A clutch bag.
- A light perfume and a smile.
All rights reserved by Rossiyskaya Gazeta.