Fatherhood turns a banker into an entrepreneur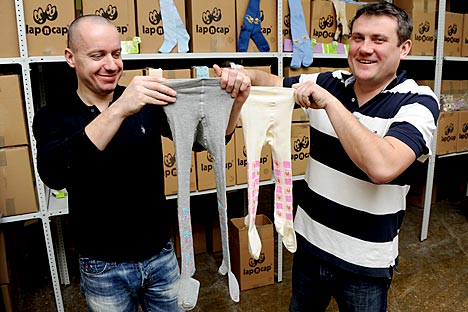 Maxim Dyachkov and Dmitry Serebryakov, engaged in the tights production, are introducing puppet-tights. Source: Vedomosti / Sergey Porter / Fotoimedia
Maxim Dyachkov was frustrated trying to get his daughter into her tights – an necessity for small children in Russia – so he created his own.
After his daughter was born in 2002, Maxim Dyachkov discovered the thing he really hated about taking care of the baby was putting on her tights – which are an absolute necessity for children in Russia.
"My wife managed pretty well, but I could never get hold of my baby girl's legs," said Dyachkov. So Dyachkov came up with his own tactic: He turned the tights inside out and painted eyes on the socks – now the tights looked exactly like two puppets. The next thing to do was to play the puppeteer and tell his daughter various stories; putting on tights became a game.
But the idea of producing unique children's tights came to life only in 2006. Before that, Dyachkov had worked as a masseur and exercise therapy instructor at a children's medical center and then deputy head of non-commercial operations at Rosevrobank. He applied for an industrial patent to make tights with eyes on the inside, but he could not decide if he really wanted to register a business.
Then Dyachkov met his old friend Dmitry Serebryakov at a party and they decided to go into business together. They had 450,000 rubles ($15,000) in savings between them, and they invested this money in developing the design of the tights. They established a business called "Lap'n'cap."
Dyachkov and Serebryakov placed their first $10,000 order for 5,000 pairs of tights with the Textilnaya Manufactura textile factory in Sergiev Posad, outside Moscow. "That was a failure," said Dyachkov, explaining that the tights were made of poor fabric and they shrank and faded when washed. "Before we supplied our tights to stores, we checked them," he said. "When I washed pink tights with my wife's white bra, it turned pink. Sales were out of the question."
The businessmen went looking for another manufacturer, and this time and chose Duna-Vesta, a Ukrainian producer. "They were ready to meet all our requirements, except for one – they could not make eyes on the inside of the tights. We had regular tights, socks and long socks made at Duna-Vesta for almost four years," Dyachkov said.
The eyes have it
The two businessmen never gave up on their idea of puppet-tights and eventually they found a Russian printing house that promised to print eyes on tights. "Yet that, too, was a failure," Dyachkov said. "They damaged almost a quarter of the batch. When the tights went through the dryer, the workers set the wrong temperature and threads on the inside of the tights melted."
Finally, the men met representatives of Lateks at the Textillegprom expo and signed a five-year contract with the Turkish firm in January 2011. "This company is capable of making tights and printing eyes on the inside," Serebryakov said.
In 2008, even as the economy sank into recession, the company reported a turnover of $2 million; this grew to $2.5 million in 2009 and $3 million in 2010. Now Lap'n'cap tights, socks and long socks are available not only through Moscow retail networks, but also in the Russian regions. Wholesalers account for about 20 percent of all sales.
Serebraykov and Dyachkov wanted to expand their business, and they invested $80,000 in making patterned socks in bright colors for adults. But the new socks sold poorly. "In Europe, men easily wear socks with colored stripes, but our people are more conservative and prefer black socks," Serebryakov said.
So the entrepreneurs took a new tactic – they opened an office in New York. The first consignment of Lap'n'cap tights with eyes arrived in the United States in October 2011. The tights are now available through two small children's retail chains in Jersey City and New York. "We managed to make a contract with Amazon and we are watching our tights go to all states, even California, Texas and Florida, where it is always hot and children do not seem to wear tights at all," Dyachkov said. Their business partner in the United States is actress Irina Shmeleva, who emigrated to the U.S. in the late 1990s. She owns her own marketing firm via3pr on Madison Avenue and helps the Russian company promote their Lap'n'cap brand in the U.S. market.
"In America, everything is much cheaper – the rent of a 100-square meter warehouse is only $500, whereas in Russia it is at least $1,000," Serebryakov said. "We order some of the services – photo shoots and videos with children, packaging design and catalogue – exclusively from America now."
This text is abridged from the original, which appeared in Vedomosti.
All rights reserved by Rossiyskaya Gazeta.