How to build a tiny bridge between big countries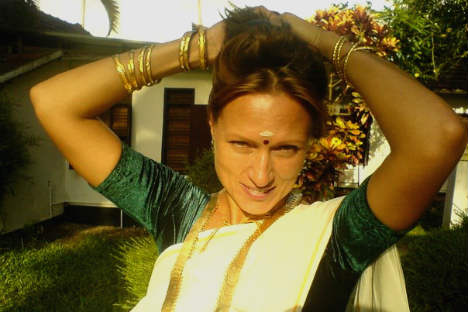 Oksana gradually came to the conclusion that not only should a one-time cultural event be arranged but also a centre to be responsible for the ties between Russia and India throughout the state.
How the Russian-Indian centre in Hyderabad is established
Strange, but love for your homeland gets stronger the further you are away from home. Without the habitual daily bustle, you suddenly realise that you miss the small routines, original holidays and your native language. Yet the opposite is also true: when you spend a lot of time in a foreign country, you tend to absorb it, get used to it and, when you get back home, you start missing the life you had there. It goes like this: the culture of one country is not enough for you; you need to combine both.
This story is about one such Russian. Oksana first came to India to do a Master's degree in philosophy. The programme was over in two years and she went back to Russia. But less than a year passed, Oksana felt she missed India. So she returned for another three years to write her thesis work on two prominent thinkers: Leo Tolstoy and Mahatma Gandhi, whose ideas and practical philosophy are relevant even in the 21st century. Her new acquaintances were all connected with Russia in one way or another, maybe because of the subject of the paper, or maybe just by coincidence. Someone had studied in Russia, someone had worked there, and some people were old enough to remember the good times when Russian classics were sold in India for 0.5 rupee apiece. In that company, the need for a cultural connection with Russia was evident. One fine day, it turned into the idea of setting up an Indian-Russian centre. That is how it happened.
Once, when browsing the Russia&India Report website, Oksana ran across an article about a festival of Russian cinema in Mumbai and was positively jealous of the city.
"Why don't we have such festivals here in Hyderabad?" she asked herself.
"The festival won't come here all by itself," her friend told her. "If you want to have it here, you will have to work on it!"
Those words caught on, but the search for a location to hold a film festival evolved into something bigger. Oksana gradually came to the conclusion that not only should a one-time cultural event be arranged but also a centre to be responsible for the ties between Russia and India throughout the state.
Oksana applied to establish a Russian-Indian centre to the Consulate General of the Russian Federation in Chennai, which is responsible for visa and other consular issues in Andhra Pradesh. The consulate approved of the idea and it was decided to create a branch of the Indian-Russian culture and friendship society in Hyderabad.
Russia&India Report decided to ask the initiator of the project about her further plans.
Oksana, when will the branch open?
As you know, to say and to do are two different things. To set the whole thing in motion, we need not only moral support but also such a good impetus as a financial fund. We are now looking for active members of our society to play the role of cultural event ideologists. Also, we need to find sponsors. I know that there are many joint Russian-Indian ventures in Andhra Pradesh and, specifically, in Hyderabad. Financial contributions to the work of the centre might prove beneficial not only from the point of view of cultural and scientific ties, but also from the business angle.
Could you explain how?
The thing is, the society will hold not only events dedicated to culture, history and traditions, but also meetings of professionals and scientists from various fields. In addition, we want to organise a language centre to teach Russian, Hindi and Telugu, which is one of the primary requirements for joint ventures to ensure fruitful cooperation, even if English is the basic language of communication in these companies. Anyone would be pleased and find it more convenient if a colleague spoke his native language. Any Russian who comes to this state will be able to get our help in studying Hindi and Telugu. Likewise, any Indian planning to visit Russia or simply interested in learning Russian is welcome to come to our centre and get the required knowledge.
What other events are you planning?
There will be events of various levels and in various fields – from film festivals, exhibitions, folklore performances, poetry readings and musical soirees to roundtables, seminars and lectures covering professional and scientific topics. We have grand plans and ambitions but, like any new initiative, we need support. We would be glad to meet and get in contact with anyone who would like to help us in any way. We only have three people on our steering committee now but would prefer there to be at least ten before we officially open the centre, in order to share the organisational responsibilities. Ideally, we would like to have people of various professions on the committee to tackle issues more professionally and find more creative ways to resolve them.
For further information you can contact Oksana on her e-mail address ircfshyderabad@yahoo.in
All rights reserved by Rossiyskaya Gazeta.