The gray cardinal leaves the Kremlin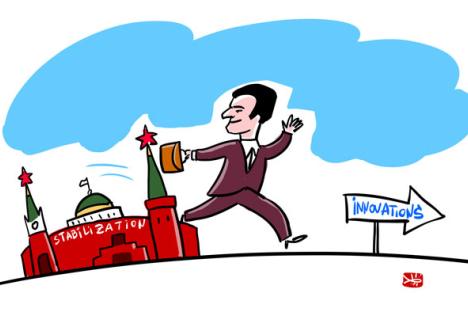 Source: Drawing by Alexey Iorsh
Vladislav Surkov has been reassigned. What his new appointment means for domestic Russian politics remains to be seen.
Vladislav Surkov, former head of the presidential administration and the "gray cardinal" of Russian politics is taking on a new role. He is moving from the Kremlin to the government, where he will become a deputy prime minister responsible for economic modernization. The move is considered punishment for United Russia's poor performance in the recent State Duma elections.
Liberal politician Leonid Gozman thinks that the Kremlin sacrificed Surkov as a reaction to the mass protests that followed the elections. Andrei Illarionov, an adviser to Vladimir Putin during his presidency, claimed Surkov's transfer was made to "hide him from public criticism."
In comments about his new appointment, Surkov said he was "too odious for the brave new world" and that "stabilization is devouring its own children." These comments indicate that the former Kremlin ideologist considers his job of shaping Putin's system of "managed democracy" complete.
"I was among those who helped [Boris] Yeltsin to secure a peaceful transfer of power; among those who helped President Putin stabilize the political system; among those who helped President Medvedev liberalize it. All the teams were great," Surkov said.
Surkov claimed that he asked to resign from his post in the Kremlin. "I was asking the governing body to enable me to start a new life in the new year. They understood me, and I thank them for that," he said.
In addition to his government work, Surkov is the author of several musical and literary compositions, and he tried to develop creative projects for the government. He is considered one of the architects of the "Russian Silicon Valley" – Skolkovo.
"Surkov is one of the most progressive-minded specialists because of his views. It's very important for coordination of the country's modernization programs, such as Skolkovo," said Sergei Zheleznyak, the deputy secretary of the presidium of the United Russia party. According to Zheleznyak, Surkov's new appointment will encourage innovations in the government.
But others think that Surkov's exile from the Kremlin means that innovative projects will lag, since he was one of the main architects of domestic policy.
"Surkov was not just controlling the work; he was masterminding it, forming different political projects. He could be working on the presidential elections, parties, governors keeping the big picture in mind. Now they don't have such a tool. Some may consider it as an improvement. But it just means that the Kremlin doesn't have its previous tool and has to search for another," claimed political scientist Gleb Pavlovsky.
Mikhail Tulsky from the Political Analytics research center said that "there's no future for Russian modernization – only PR, which is the main area of Vladislav Surkov's expertise."
Surkov was smiling while speaking to President Medvedev about his new appointment. He thanked the president for the opportunity to start doing "new, interesting work" adding that "it is a great honor" for him.
"I think that Surkov feels happy after breaking through the vicious circle of the Kremlin towers," said Alexei Mukhin from the Political Information Center. "He has new horizons that are significantly different from his previous functions."
All rights reserved by Rossiyskaya Gazeta.