The two sides of Russian football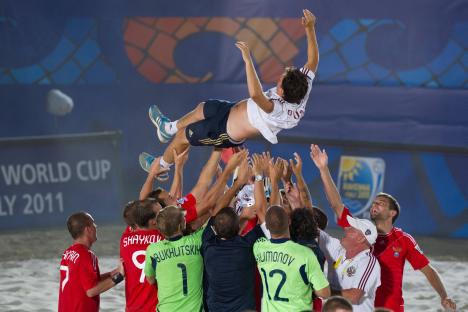 Two Russian soccer clubs, Zenit (St.Petersburg) and CSKA (Moscow), joined the Champions League for the first time. Source: ITAR-TASS
Landmark achievements and high profile scandals made 2011 an interesting year for Russian football.
In purely athletic terms, Russian football fans could not have hoped for a better year. Fans may not agree with all the policies of Russian Football Union head Sergei Fursenko and the pragmatic football it produced, but the national squad, under coach Dick Advocaat, played evenly and qualified for Euro 2012. The team also managed to avoid drawing the "group of death" (made up of the Netherlands, Germany, Portugal and Denmark) for the Euro 2012 group stage, instead ending up in a manageable group with Poland, Greece and the Czech Republic.
But it was at the club level that Russian football achieved a real breakthrough. For the first time in history, two Russian teams were included in the Champions League, made up of the best 16 teams in Europe. Although Moscow's CSKA had played in the Champions League before, Zenit St. Petersburg achieved this honor for the first time.
But as Russian football was making itself known in Europe, scandals were rocking the sport at home.
Kuban Krasnodar team player Nikola Nikezic recorded a video message in which he claimed that he had been forced to terminate his contract at gunpoint, and before that he had been choked. As it happens, this was was not an isolated incident. After the case was widely publicized, Sreten Sretenovich came forward to say that Kuban terminated his contract using the same methods.
An ethics committee was called, headed by Deputy Justice Minister Alu Alkhanov and the initial verdict was, by Russian standards, extremely stringent: a 2 million ruble ($62,800) penalty for Kuban, and 1 million ruble ($31,400) penalty for club general director Suren Mkrtchyan. Another two members of the Krasnodar club who were directly involved in the Nikezic incident – Athletic Director Sergei Doronchenkov and Coach Nikolai Khlystunov – were banned from football for different durations. However, their sentences were soon reduced to a fine. Following this decision, Alkhanov resigned from the committee, although it is unclear whether he stepped down voluntarily or in protest over being forced to reduce the sentence in the Nikezic case.
In August, during an away game with Nizhny Novgorod, Zenit forward Danko Lazovic, approaching the stands to celebrate a goal, was tasered by someone standing in a cordon of riot police. Law enforcement agencies never found the culprit within their ranks.
Then in November at a youth championship match in Grozny, former Russian national team player and Krasnodar forward Spartak Gogniyev was beaten up. In the video of the beating, which went viral online, viewers can see a footballer being beaten up by arena staff, men in camouflage, and even fans. The club faced no major penalties.
In addition to landing some physical blows, Russian football hooligans also made some insulting gestures to players this year. During the flag-raising ceremony at the national football championship in St. Petersburg, someone close to the field held out a peeled banana to Anzhi captain and renowned defender Roberto Carlos. The perpetrator of the racist prank has not been named, apparently because he is being dealt with behind the scenes. A few months later at a stadium in Samara in imitation of this event, a banana was thrown at a black football player who went to the dugout and refused to finish the match.
Despite the performance of players on the pitch, the already fragile reputation of Russian football has been further damaged by these incidents. It's hard to know what received the greatest response in Europe: the Russian national team's winning goals and the feats of CSKA Moscow and Zenit in the Champions League, or the video of Spartak Gogniyev breaking away from the brutal mob and the testimony of Nikola Nikezic, who, incidentally has fled from Russia and is afraid to return for the hearing of his case.
First published in Kommersant.
All rights reserved by Rossiyskaya Gazeta.