The tree debate: real or fake?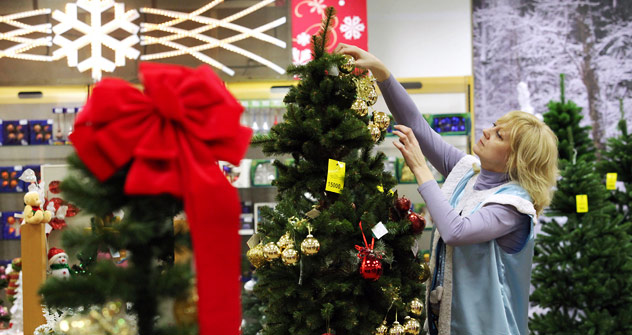 The market itself regulates the demand for Christmas trees. Source: PhotoXpress
As Russia readies itself for New Year and Russian Christmas next weekend, the tree debate has grown — real or artificial? Green pine or silver plastic? Even environmentalists and officials are divided over the possible damage from Christmas tree cutting
Moscow residents are buying fewer real Christmas trees this year, according to forestry officials. Moscow is hosting only half the number of legal Christmas tree markets it had last year. Meanwhile, environmentalists insist that artificial Christmas trees are even worse for the environment than taking the axe to an evergreen.
"The market itself regulates the demand for Christmas trees", deputy head of the Forestry Department for the Central Federal District Alexei Yermolenko said. In 2010, Moscow's Commerce and Services Department expected real Christmas tree sales to reach no more than half a million, while on New Year's Eve, the number of Christmas tree markets reached 420. (Christmas is celebrated January 7th in Russia.)
As the Department's press secretary, Leonid Ivakin, told Moscow News that no official sales expectations have been released so far, but the number of live Christmas tree markets will be slashed to just over 200--about half as many as last year.
"People have grown more considerate about the forest and are going for artificial trees," Vadim Gusev, deputy head of the Moscow Forestry Department, said. It's a welcome trend for both the Moscow Office and the Central Federal District Forestry Department. It takes from five to eight years to grow a Christmas tree. Although the Forestry runs special Christmas tree plantations to secure the main part of the forest reserves, according to forestry officials, any tree cutting causes damage.
Christmas trees are generally grown along gas and oil pipelines and electricity transmission lines. Trees are supplied to Moscow markets mostly from the Moscow Region, with some additions from the Bryansk, Yaroslavl, Vladimir, Tver and Ryazan Regions, and even from abroad (for instance, Denmark).
Vladimir Borisov, a public relations manager at Elki, a company that plans to be represented at 46 of Moscow's Christmas tree markets this year, disagrees with the forestry officials, unsurprisingly. He said that his company is counting on the fact that the number of people willing to buy a real Christmas tree in Moscow is increasing. This is true both of Russian fir trees, which remain the most popular on the Russian market, and imported trees, he said.
Nikolai Shmatkov, Russia forest policy coordinator for the World Wildlife Foundation (WWF) said: "If all the necessary conditions are met and the trees are sold legally, there can be no harm to the environment. After all, trees are a renewable natural resource and this is how we support the sustainable use of this resource."
The environmentalist is convinced that what is not environmentally friendly is the purchase of artificial trees. "It is not a good thing to substitute a real tree with an artificial one, because this way we support a hazardous industry," the specialist noted. "In a few years' time, we will buy a new – more fashionable – model, and the one we throw out will take thousands of years to decay."
All rights reserved by Rossiyskaya Gazeta.