Exiled to Russia: double agent Kim Philby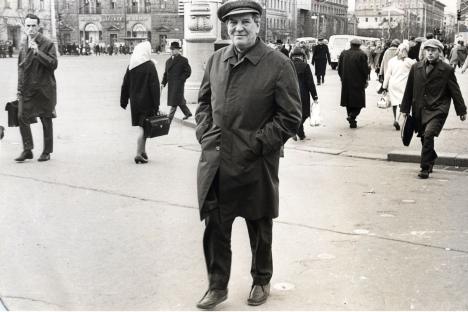 Russian spy Kim Philby. Archive Photo: Daily Mail / Rex Features
To commemorate what would have been his 100th birthday, a new book on double agent Kim Philby has been published by award-winning Russian journalist and writer Nikolai Dolgopolov.
Kim Philby OBE, a high-ranking member of British intelligence, fled to the USSR in 1963 after years of spying as a double agent. The Russian postal service commemorated the head of the famous Cambridge Five with a stamp, while a book by award-winning journalist and writer Nikolai Dolgopolov has been published recently to coincide with what would have been Philby's 100th birthday on January 1st.
Philby's life attracted a lot of attention and there have been about 200 books published about him. This new book focuses on the Moscow period of Philby's life. He spent 25 years in the Soviet Union – from 1963, when he fled from Beirut, till 1988, when he died in Moscow. He loved wondering round Moscow, his wife recalls, and knew the city centre very well. He even made a map of the toilets in the Moscow city centre – partly for a joke, though in fact it was quite useful, since there were not too many of them.
Among the strongest points of the new book is that it shares previously unseen confidential Russian Foreign Intelligence Service documents, declassified especially for this book. You can read some of these on our website, including one from Philby regarding the circumstances of his wife when he fled Beirut. The book also contains reminiscences from Philby himself, his Russian wife Rufina and Soviet intelligence officers , some of whom were Philby's students or his supervisors.
Source: Daily Mail / Rex Features and archive photos of Rufina Philby, the Russian wife of the spy.
All rights reserved by Rossiyskaya Gazeta.