Gorky Park's ice reflects a green revolution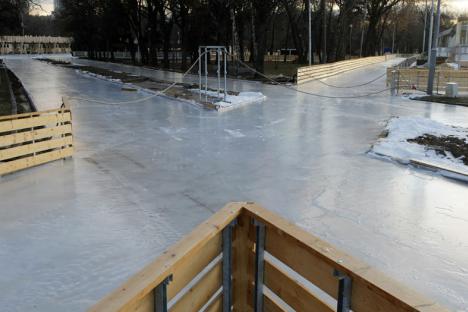 The Gorky park is expected to have a 15,000-square-meter ice skating rink, the largest in Moscow and one of the largest in Europe. Source: © Dmitry Zh/Ridus.ru
Major changes in Moscow's best-known park show that the authorities are serious about making the city a greener place to live.
The Gorky park is expected to have a 15,000-square-meter ice skating rink, the largest in Moscow and one of the largest in Europe. Source: © Dmitry Zh/Ridus.ru
According to Alexander Kuzmin, head of the Moscow Architectural Committee, Moscow is one of the greenest cities in Europe. Within the city's current borders, there are about 10,000 hectares of real forests in addition to public gardens and boulevards. In total, the capital boasts several dozen parks and public and private gardens. However, they are not all that visible. Muscovites have become accustomed to looking at concrete, although many would prefer that it be greener.
"Have you been to Berlin? That is a green city indeed. There are parks at every turn, birds sing in the morning – they can be heard everywhere. And what do we have here? Honking cars," said Slava as he played a game of table tennis in Central Moscow's Gorky Park.
"It bounces off poorly, damn it!" he exclaimed through clenched teeth as he missed another ball. "The coating is kind of strange. They can't do anything right!"
Gorky Park is currently undergoing a massive renovation as part of Moscow Mayor Sergei Sobyanin's plan to make the city greener. Sobyanin promised that by 2016 the city would be verdant; garbage piles would be removed from the grounds of the main city parks, and instead of dangerous amusement park rides and dirty water in canals and pools, young people would be greeted by volleyball pitches, clean lawns, ping-pong tables and a plethora of activities that would both entertain as well as promote healthy habits.
In Gorky Park, the authorities have already installed new tables for table tennis and sown lawns. The park is supposed to be a new, European-style leisure area and at the moment it does indeed resemble a park in Paris or Barcelona. All around are young people typing away on smartphones, flowerpots, the largest skating rink in Europe and different types of trashcans for different types of waste. Major Russian companies scrambled to finish the park's reconstruction so that they could take part in the cultural and sporting events planned for after it was revamped. So far there has been a party sponsored by Levi's, several festivals with the fashionable prefix "eco," and a book fair called the Bookmarket.
"Throughout the spring, various ecological organizations worked hard. For example, we planted 5 million trees and the 'No. More. Garbage' movement cleaned 500 different spots in one day. The ecofestival is an opportunity to tell others about all of this through the photo exhibition, fair and concert, plus to invite people to join us," said Tatyana Kargina, press secretary of the ECA environmental movement in an interview with the Village magazine.
However, Muscovites are a little suspicious of the changes taking place in one of the city's best-known parks – particularly the removal of many of the carnival games and rides that once sat on the edge of the Moscow River.
"These objects have always been amongst the sweetest joys remembered from my childhood," wrote a correspondent for Russky Reporter magazine. "Luna Park with its boring merry-go-rounds won't replace them. Taking noisy amusement rides beyond the city center limits is a typical European custom, but it upsets me."
The only item left remaining of this kind is the Buran – a model of a Buran BTC-001 spacecraft, although the authorities have promised to dismantle it and float it down the Moscow River.
"If they float Buran away, I won't be going to the skating rink, even if the rink is the largest in the world," said Slava looking up from his tennis table. That would be a real sacrifice, as the plans for the ice rink make it sound as if it's something that won't be missed.
Yevgeny Komarov, a representative from the engineering company that is building the skating rink, said that artificial ice will be six inches thick and will remain in ideal skating condition regardless of the weather – people will be able to go skating even if the air temperature rises to 60 degrees. The rink will include 160,000 square feet of skating space and the operators have purchased 4,000 new pairs of skates.
More than 1,500 people will be able to skate at one time, guided by a special traffic controller. Additionally, no one will be allowed to skate with a bottle of alcohol in their hands.
On Sept. 30, Sergei Kapkov was appointed the head of the Moscow City Department of Culture and he began preparing a program for revamping the rest of Moscow's parks. His plans are grandiose, but whether this 'green' revolution transforms into a cultural one will only become clear in the spring.
All rights reserved by Rossiyskaya Gazeta.