Russia: Snow, vodka, fighter jets...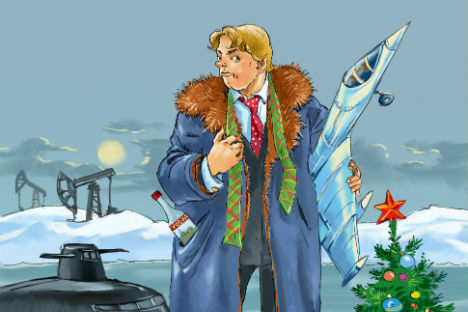 Russia and India have been friends for a long time. But the image of Russia as a snow-covered, vodka-drinking country producing fighter jets, needs revisiting.
Picture: Dmitry Divin
When a colleague of mine went to study to India, she was rarely recognised as a Russian because she did not conform to an image of a typical Russian, from Indians' point of view. Her Indian classmates thought that a Russian would be someone tall, light-haired, good-looking but with no smile on his/her face, and someone who spoke patchy English. She laughed it off at that time, but it shows the power of images.

Tall, gloomy, bad English

The image of a Russian who spoke halting English with a Russian accent may have been true a while ago. But now many Russians are studying and working abroad, and hanging out with their foreign friends in social networks. They speak ok English and many of them sport British accents with ease.
What's up with the smile? Many Russians admit to not being their friendliest selves when walking along the street or commuting to work by metro. But Indians living and working in Moscow change their opinions of Russians when they start communicating with them on a daily basis, from "reserved and distant" to "warm and friendly". Says Ravi, an Indian living in Moscow since his student years: "It takes time for Russians to warm up to a person. But once they feel they can trust someone, they eagerly invite him to join their friends' circle."

Hype about oil pipes

Today, the names of Russian oil tycoons are often more famous than the names of scientists or ballet dancers, which is a shame. It's true that these are money-spinning industries, but the clichéd picture of a Russian sitting on an oil pipe and armed with a missile is just a little disturbing. In all fairness, all Indians do not nurse such stereotypes. For the well-read, Russia is the land of legendary writers like Tolstoy and Dostoevsky and the country of ballet dancers.

Drinking vodka to get warm?

And last but surely not the least, some Indians imagine Russia as a freezing cold place where drinking vodka helps people to stay warm. As my Indian classmate Rabia told me: "It must be so hard living in constant frost. How do you manage not to fall ill in such a climate?" But to tell the truth it's not as bad as it sounds. Not as nice as mild Indian winters, yes. But also not so depressing that one needs to be cured with a glass of vodka. By the way, Indians who've lived in Russia for a while say the Russian winter is not as cold and dreadful as it is painted. In fact, some of them even prefer energising frost to the Indian summer heat.
All rights reserved by Rossiyskaya Gazeta.