Valenki: A Russian necessity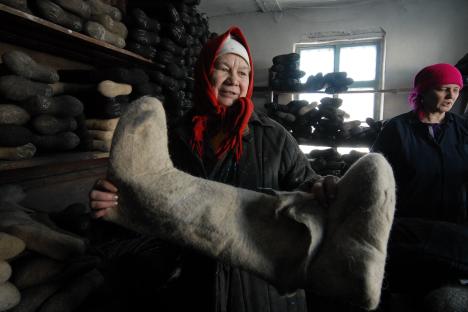 Historically, valenki - Russian felt boots - were a good tool to endure Russia's severe climate. Source: Andrey Shapran/FocusPictures
The iconic Russian felt boots, valenki, are very popular, and even essential in the countryside due to the country's severe climate. Today many valenki are made in the villages of the Altai Region.
Throughout history, the need to cope with the cold climate in Russia's countryside has produced some interesting innovations. After trying several ways to keep their feet warm, Russian peasants came up with the idea of using sheep's wool to produce felt boots, now known as valenki.
Valenki can be black or white, depending on the natural color of the sheep's wool, and they are extremely warm – the perfect tool to endure the difficult Russian winter.
Initially, valenki were a result of the scrupulous and time-consuming handiwork. The production of valenki began at the end of the 16th century, and they were both expensive and fashionable. At the time, production of valenki only took place in the winter – it began after the harvest time was over and stopped after Easter, when sowing and cattle pasturing started again.
In the middle of the 20th century, however the production of valenki was standardized and evolved into an assembly line process not dependant on the agricultural seasons. But these valenki factories were never profitable and eventually the number of firms producing valenki decreased.
However, some small firms continue to produce the boots. They are mainly located in rural Russia, where valenki are in high demand among local residents.
Several factories operate in the villages of the Altai Region, where craftsmen continue to produce this indispensable tool for Russian peasant life. No matter how modern the process becomes, it still requires unique and scrupulous handiwork. Making valenki is difficult, and it does not pay well – only about $5 a day. But for many locals in Altai, the valenki factory is the best the region has to offer.
All rights reserved by Rossiyskaya Gazeta.