CEBR: Russia to be one of the world's top five economies by 2020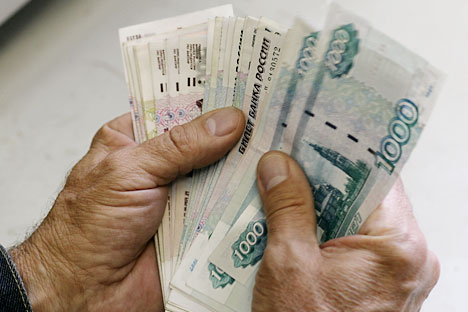 Meanwhile, the UK's rating went down one place to seventh position as a result of the continued growth of the Brazilian economy (RIA Novosti / Aleksey Kudenko) Source: ITAR-TASS
Russia may well improve its standing in the list of the world's most powerful economies in the next eight years, says the UK-based Center for Economics and Business Research.
According to the Center for Economics and Business Research (CEBR), Russia would rise to fourth spot from its current position of ninth. With India and Brazil also forecast to climb the ratings, the BRIC economies will take four out of the six top positions in the list. The USA, China and Japan are expected to hold their respective first, second and third places.
The agency says the eurozone crisis is going to be the major contributor to Russia's ascent. The European Union's economy is expected to contract by 0.6 per cent in 2012 at best, but by as much as to 2 per cent "if the euro problem is not solved." The other factor is Russia's economical slant to the export of natural resources.
The CEBR's ratings for 2011 included a disappointment for the UK, whose rating went down one place to seventh position as a result of the continued growth of the Brazilian economy. Brazil has surged up to sixth position owing to its vast reserves of natural resources and a rapidly growing middle class, while the UK is gripped by a national-debt crisis and a lack of bank credit.
"Brazil has beaten the European countries at soccer for a long time, but beating them at economics is a new phenomenon. Our World Economic League Table shows how the economic map is changing, with Asian countries and commodity-producing economies climbing up the league while we in Europe fall back," said CEBR chief executive Douglas McWilliams as quoted by The Daily Telegraph newspaper.
In general, the CEBR League Table, which is based on data from the International Monetary Fund, indicates Europe's decline is set to continue. While the EU will remain the world's largest trading bloc, the downward trend can clearly be seen: Germany is expected to fall from fourth position in 2011 to seventh in 2020, the UK from seventh to eighth and France from fifth to ninth.
Political analyst and author Adrian Salbuchi believes that given Russia's geopolitical potential and vast natural resources it "can do nothing but improve."
"All it has to do is to tap into it and naturally the economy will follow in a rising manner," he told RT.
Salbuchi also attributed the positive economic forecast for Russia to the fact that it "kept itself aloof of this parasitic global banking and financial system."
All rights reserved by Rossiyskaya Gazeta.