Another war in the Middle East?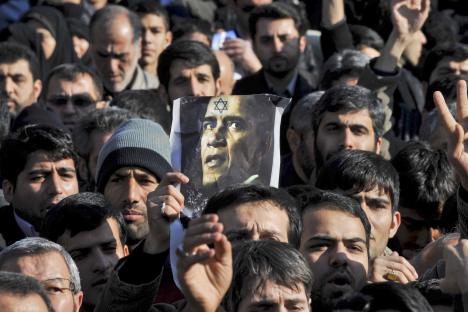 What consequences will the differences between the U.S. and Iran on its nuclear program result in? Source: AP
Recent actions between the U.S. and Iran show that neither side is willing to back down – or afraid to engage in armed conflict.
Moscow and Washington have unanimously condemned Iran's decision to start uranium enrichment. A related statement from the Russian Ministry of Foreign Affairs stated: "We have to acknowledge that Iran is continuing to ignore the international community's demands on dispelling concerns about its nuclear activities." In turn, U.S. Secretary of State Hillary Clinton said: "We call upon Iran to immediately cease uranium enrichment and to comply with its international nuclear obligations." However, Russia and the United States still envision different approaches to solving the Iranian problem, which threatens to turn into yet another war in the Middle East.
The pretext for these almost synchronized statements from the foreign ministers of Russia and the U.S. is that Iran's Fordo plant has started enriching uranium to the 20 percent level. Looking at the situation impartially, it becomes apparent that this is not such stunning news.
"Iran has previously enriched uranium to 20 percent, allegedly for a research reactor," said Major General Vladimir Dvorkin, a well-known nuclear weapons expert. "This enrichment level is not sufficient for making a nuclear explosive device. Nonetheless, it certainly brings Iran closer to enriching uranium-235 to 80-90 percent, which is quite enough to build a nuclear bomb or nuclear warhead."
But the question is why Iran has started building up its nuclear program just now.
After the fall of Mohammad Reza Shah Pahlavi's pro-American regime in 1979, Iran's clerical government has consistently pursued an anti-American policy. Now Iran is implementing its own policy in Afghanistan and Iraq; and in Syria, Tehran supports Bashar Assad, who is preparing for a future as an international pariah. In addition, Iranian oil and Iran's geopolitical position – overhanging the oil monarchies of the Persian Gulf – makes it a major global player, claiming at least regional leadership.
Earlier this year, the U.S. announced the possibility of an embargo on Iranian oil. In return, Iran threatened to block the Strait of Hormuz, through which 40 percent of global oil exports pass. Tehran was quick to back up these threats with naval maneuvers, which was followed by the rapid redeployment of two U.S. aircraft carrier groups to the Persian Gulf. Iran responded by beginning uranium enrichment work. On Jan. 11, three aircraft carrier groups moved into the Persian Gulf.
According to Nikolai Patrushev, general secretary of Russia's Security Council, the U.S. is working towards regime change in Iran. The U.S. is "seeking to turn Tehran, their enemy, into a loyal partner, and for that purpose to change the ruling regime there by any means. Economic sanctions are being applied, as is massive support for opposition forces, which can conduct a colored revolution there," said Patrushev.
This idea was confirmed in the United States. On Jan. 11, an editorial in the Washington Post wrote: "The Obama administration sees economic sanctions against Iran as building public discontent that will help compel the government to abandon an alleged nuclear weapons program, according to a senior U.S. intelligence official. In addition to influencing Iranian leaders directly, the official said, 'another option here is that [sanctions] will create hate and discontent at the street level so that the Iranian leaders realize that they need to change their ways.'"
If Iran acquires nuclear weapons, it will be even harder to reason with it. But it seems that there is no alternative.
The military operation against Libya allows "some countries to assume that if Gaddafi hadn't voluntarily abandoned his nuclear program several years ago, it wouldn't have occurred to anyone to threaten him with military action today," said Alexei Arbatov, head of the Center for International Security in the Institute for International Economy and International Relationships at the Russian Academy of Sciences. This refers primarily to Iran, and is apparently the main reason for the current exacerbation of the 30-year-long standoff between the U.S. and Iran.
The NATO operation against Libya clearly triggered the intensification of Iran's nuclear program, and Tehran's opponents are pushing to force a solution to the Iranian problem. Now we are seeing that there's an obvious escalation of tensions in which the parties seem to provoke each other with the alarming gusto of a brash gambler.
Expressing the official view of the Kremlin, Patrushev said: "Russia, China, India, and a number of other countries are making great efforts to solve the problem through peaceful negotiation. The results of these efforts are so far minor, since the U.S. and Iranian sides now have little interest in its success, albeit for different reasons."
The Russian Ministry of Foreign Affairs called for the resumption of talks between Iran and the global community. Moscow is prepared to act as a mediator, but so far, tensions have only intensified.
"There is a likelihood of military escalation of the conflict, which Israel is pushing the Americans toward," said Patrushev. In other words, that brings us closer to another war in the Middle East––the fourth in the last 10 years.
All rights reserved by Rossiyskaya Gazeta.