Yury Chaika anticipates a positive 2012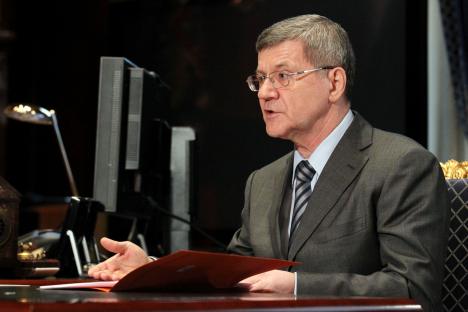 Russia's Prosecutor General Yury Chaika. Source: ITAR-TASS
The streets may be erupting in protest, but Russian Prosecutor General Yury Chaika is looking forward to the coming year. Rossiyskaya Gazeta's Ivan Yegorov spoke to Chaika about the protest rallies, social networking and what the future holds for Russia's political system.
Yury Chaika: We live in a democratic country and all citizens are entitled to express their positions. Even so, everything should remain within the bounds of legality. It is inadmissible when some people use the populace to attain their political goals, which are often quite dirty, because such activities are often financed from outside Russia.
Some violations of the law were, indeed, recorded during the elections. They are all being checked not only by prosecutors but also by the investigative authorities. I can assure you that a legal decision will be made on each case.
R.G.: No serious incidents were reported during the opposition rallies but insults were hurled at some officials. Is no punishment meted out for this anymore?
Y.C: Many must have thought that after Dec. 8, 2011, when previously punishable activities including slander and contempt were decriminalized, they might easily go beyond the mark and no one would be held liable for anything, yet this is not the case. We are still liable for both slander and contempt, but this is now administrative liability, and the fines are quite heavy.
It is also important to remember that the Criminal Code still includes article 319, which envisages criminal liability for public insult of a state official on duty or in connection with his duty.
R.G.: Boris Berezovsky recently said that he was ready to return to Russia if the prosecutor general stopped seeking a meeting with him. Would you agree to these terms?
Y.C.: The prosecutor general will not stop inviting him to a meeting because the law has some questions to ask Berezovsky. Valid legal decisions have been made with respect to him, and they must be executed. Furthermore, other criminal cases are being investigated with regard to Berezovsky, not only in Russia. Sooner or later he will have to take responsibility for what he has done.
R.G.: Social networks have become increasingly popular here, especially among young people. How is the prosecutor general's office dealing with these new trends?
Y.C.: Unfortunately, the popularity of social networks often benefits people with extremist views, so prosecutors' office agencies monitor the Internet on a regular basis to identify dissemination of extremist and terrorism-related materials. On the basis of prosecutors' office requests to recognize such materials as extremist, courts make decisions to limit access to them.
Last year, several groups from an illegal extremist organization were detected in a popular Russian social network. They numbered thousands of people and were steadily growing. A criminal case was initiated for founding an extremist organization; yet, most such sites continue working and publishing banned materials. The main reason is that the servers used to disseminate the extremist information are located beyond Russia's jurisdiction.
The general prosecutor's office cooperates on extradition and legal assistance with more than 80 countries, including CIS member states and members of the Council of Europe. Every year, we receive more than 2,000 extradition requests from our foreign partners and make about 500 requests to extradite people to Russia in order to hold them criminally liable and execute sentences. Furthermore, an average 6,000 legal assistance requests pertaining to criminal cases are processed and fulfilled annually.
The geographical coverage of cooperation is expanding and we are seeing positive trends in our relations with some countries, including the UK, the United States and Israel. We have managed to get some criminal fugitives involved in high-profile grave and serious crimes extradited to Russia.
At the same time, the general prosecutor's office still faces problems, including unfounded rejection of extradition and application by the requested party for measures of restraint other than arrest, which often makes extradition impossible. It frequently takes foreign partners a very long time to process Russia's extradition and legal assistance requests, this often making it unfeasible to hold the accused persons liable owing to expiration of the statute of limitations.
R.G.:What is your assessment of the work of prosecutors' offices in 2011?
Y.C.: Social protection of citizens is among our top priorities. We managed to redress the violated rights of hundreds of thousands of people. Every fifth petition was satisfied. Some 3 million people submitted claims to prosecutors' offices.
We have improved relations with many European counterparts: for the first time in the 100-year history of our relations, the UK agreed to extradite four people to Russia.
All rights reserved by Rossiyskaya Gazeta.