The "Blackberry" for Putin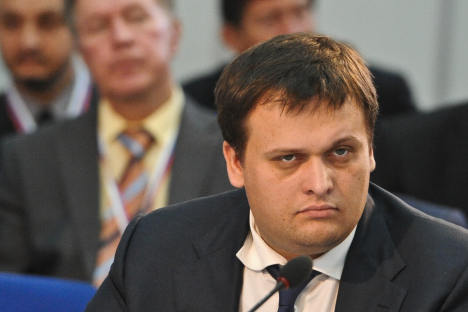 Andrei Nikitin, the general director of the Agency of Strategic Initiatives (ASI). Source: ITAR-TASS
Andrei Nikitin, 31, is general director of the Agency of Strategic Initiatives (ASI), a group created last summer by Prime Minister Vladimir Putin to address concerns of business owners and professionals – some of the same people who took to the streets in protest in December.
Nikitin, who has had his own businesses in the Tver Region and Ufa, said that his new role is to better understand why people feel disenfranchised and dissatisfied with politics and business as usual; the next step will be to suggest reforms.
Nikitin shared his agenda with Anna Nemtsova, Moscow correspondent for Newsweek and The Daily Beast and a contributor to Russia&India Report.
Russia&India Report: How do you respond to the latest wave of criticism and recurring protests against Prime Minister Vladimir Putin?
Andrei Nikitin: As far as I can see, Vladimir Putin is a person who has the support of a majority of Russians. That is what makes him feel confident about his strength. It gives him a feeling of legitimacy. At the same time, he is a clever man, who realizes, as he said himself, that the people who came out to the square are also a product of the Putin regime. It is a generation of free professionals, brought up during Putin's epoch.
The idea to create our agency was an attempt to establish communication between [Putin] and this part of the public. My agency is some sort of a communicator, a Blackberry, that one can call. Our job is to realize all the positive ideas coming to us, and try to apply them in projects on federal and regional levels.
RIR: How is your agency different from dozens of other, already existing state institutes?
A.N.: We focus on different themes. One of them is called "new business." The idea is to support already succeeding companies when they hit a glass ceiling, or some barrier that keeps them from growing. This month, our agency was assigned to develop our investment projects across Russian regions. We are responsible for improving local investment climates. We are interested in helping the best entrepreneurs with medium-size businesses, those worth three or four billion rubles, who have revitalized production in the regions. We create opportunities for them, and support them by making changes in the system in order to limit decisions made by single bureaucrats.
RIR: What kind of interaction do you have with Vladimir Putin?
A.N.: The prime minister would like to meet with businessmen and hear about problems they come across. I meet with Mr. Putin every month and a half to report about on our progress. Being a businessman myself, I could see how to improve the issue concerning state guarantees; I came to this job to make the business climate better. I do not think of myself as of part of the government.
RIR: Are you afraid to be direct when you tell the prime minister about the difficult issues people deal with?
A.N.:: There is nothing to be afraid of. There is no use for me to talk about problems–I go with the options, solutions. We discuss optimal solutions; besides new business, we have a department called "new professionals." Today, business companies suffer from professional staff hunger. Every year, the Ministry of Education spends about 100 billion rubles on training professionals, while business has to spend about the same amount for re-training the graduates they employ.
RIR: What initiatives do you offer to the system of education?
A.N.: Next year we are planning to launch the Global Education program, similar to what they have in China and Kazakhstan, where students can study at the world's best universities under guarantees that they would come back. Before the program begins to work and thousands
of students study abroad, we need to break the wall of resistance from the [university] rectors. They believe that everything is fine in our country.
One disagreement we have with the ministry is that they believe that university rectors should be selecting students who go abroad. We think that the system of applications should be transparent and that any student has a right to study abroad.
RIR: What do you think makes business people like you so angry today that they come out to the streets?
A.N: The lower-level bureaucrats are violating their rights. We have made some real progress in the regions, where we demanded that governors guarantee their responsibilities to investors. Investors should have access, so bureaucrats react in no more than two days. I have business in Ufa and Tver Regions and I understand that the quality of state service has to be improved.
All rights reserved by Rossiyskaya Gazeta.