Phobos-Grunt's fall resulted in controversial statements of Russian officials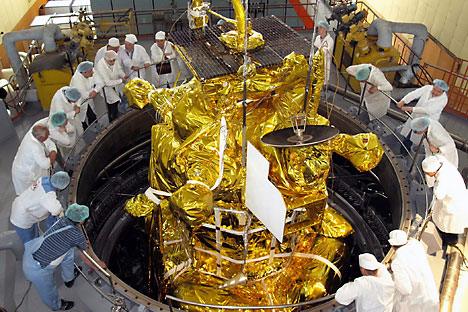 Russian officials and scientific try to understand the reasons of the Phobos-Grunt failure. Source: ITAR-TASS
The failure of Russia's first major interplanetary mission in 15 years raises additional questions about the source of transport to the International Space Station.
The failure of Russia's Phobos-Grunt probe, which has crashed into the Pacific Ocean, was the disappointing completion of the Russia's first interplanetary mission in 15 years. The doomed unmanned expedition, when coupled with a total of six launch failures for 2011, is considered by experts a particular blow to the reputation of the Russian space program. The reputation of the space program is a sensitive issue, given that it is currently the only source of transportation between earth and the International Space Station.
New Deputy Prime Minister, Dmitry Rogozin has made several steely statements, promising order in the industry. "I am taking the investigation into the reasons for the Phobos-Grunt failure under personal control," Rogozin wrote on his Facebook page, according to RIA Novosti.
As experts have pointed out, however, a thorough investigation of what went wrong with Phobos-Grunt is technically impossible. "The probe, which weighed two tons… exploded in Earth's atmosphere," said Igor Marinich, editor in chief of the online magazine "Novosti Kosmonavtiki." (Space News).
A version of events that includes possible sabotage, as voiced by Vladimir Popovkin, current head of Roskosmos, which oversaw the Phobos-Grunt project, is therefore impossible to prove or disprove.
Alexander Zhelaznyakov, a member of the Russian Tsiolkovsky Space Academy, said that in theory, strong and focused radio waves are technically able to damage a space probe's electronics. But he pointed out that the level of cooperation and goodwill among the key space powers make speculations about such an unfriendly act useless.
Those who deal with international space programs tend to be surprised by how friendly the atmosphere is in the industry. "I learned [during training in Star City, where cosmonauts prepare for spending time aboard the ISS] how close the Russian-American relationship is: American astronauts speak Russian far better than the American businesspeople I know in Russia," said Esther Dyson, a venture capitalist who took a full course of training in the Star City as a back-up cosmonaut.
"We are allies in space with Europe, the U.S. and China, and we shouldn't be expecting any foul play from them," Zheleznyakov said. He suggested that closer attention must be paid to outdated technologies and to a lack of communication between the older generation and young scientists. Zheleznyakov pointed out that Phobos-Grunt was made using 10-year-old technology and spare parts whose warranties were expired.
Late last year, a scandal erupted when a LiveJournal blogger, Lana Sator, sneaked into an Energomash rocket-building facility, where rocket boosters' engines were tested. The pictures Sator took there showed outdated equipment at one of the space program's key factories may make an even stronger case for reevaluating the Russian space industry than Phobos-Grunt's well-publicized failure has done.
During a recent meeting with Rogozin, Prime Minister Vladimir Putin said that the civil space program must get army–style quality control. Among other things, the military quality control requires a permanent presence of a controlling organization (similar to army purchase officers) at any given factory.
There is some debate as to whether strict quality control alone will help the industry, which urgently needs a new influx of talented staff and updated manufacturing hardware.
"We are talking not about a crisis, but about the consequences of long-term under-financing of the industry," Zheleznyakov said.
The freeze on space program financing, ordered under then-President Boris Yeltsin, has played a part in today's failures, but according to Zhaleznyakov, Russian space scientists must also adapt more to the modern age. And Roskosmos – both when it comes to programs in Earth's orbit and for solar system exploration – must act in line with national priorities, according to the expert.
Combined report based on the information from the Moscow News and RIA-Novosti.
All rights reserved by Rossiyskaya Gazeta.