Lavrov picks a fight over trade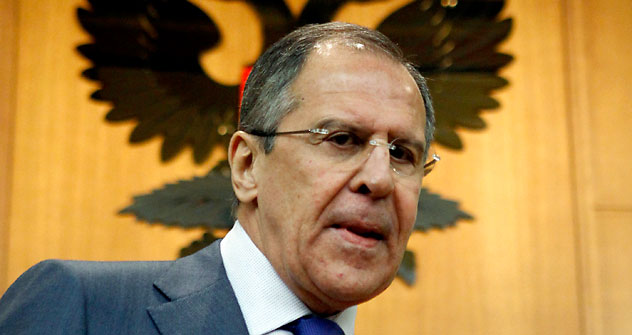 Russia's Foreign Minister Sergei Lavrov. Source: Reuters/Vostock Photo
Russia's foreign minister tells the U.S. to lift the Jackson-Vanik amendment or face economic retaliation. Is this the best move for U.S.-Russian relations?
Russian Foreign Minister Sergei Lavrov has warned the U.S. to stop applying economic sanctions prescribed by the Jackson-Vanik amendment or face difficulties in its economic relations with Russia. Lavrov said that if the sanctions do not stop, Russia will not comply with its World Trade Organization (WTO) commitments toward the U.S. and seriously complicate the economic activity of American businessmen in Russia.
The Jackson-Vanik amendment, adopted by the U.S. Congress in 1974, restricted trade with the Soviet Union and other communist countries that prevented the free emigration of Jews. According to Lavrov, the amendment contradicts the basic principles of the WTO because it discriminates against Russia. Russia is expected to shortly ratify all documents related to its WTO membership, which was finally offered on Dec. 16 after 18 years of negotiations.
Although Lavrov's move would seem to affect U.S.-Russia relations, experts from both Russia and the U.S. are reluctant to say that there will be any long-term consequences.
"I do not think that by itself Lavrov's position, if it is implemented, could undo the reset, but it certainly could add another burden to the reset," said Gordon Hahn, an American specialist on Russia at the Monterey Institute for International Studies in California. "So it could help reach a critical mass of irritating problems that could undo the reset, especially if a crisis occurs in some sphere."
Yevgeny Minchenko, the head of Russia's International Institute for Political Expertise, connects Lavrov's statement to the ambivalence of some in Russia's economic community towards the WTO. "Russia has many influential lobby economic groups that are against the country's accession to the World Trade Organization," Minchenko said. "And any arguments against Russia's WTO membership will be only welcomed in some economic cycles."
But even if Lavrov's comments are directed at a domestic audience, they could still affect its foreign relations.
"The Russian foreign minister's words prove that Moscow wants the bilateral relations to be complicated," said Gregory Feifer, senior correspondent for Radio Liberty and a specialist in U.S.-Russian relations. "Lavrov's statement is not new; such a hardline position is quite typical for Russia. Remember [Prime Minister Vladimir] Putin's previous stance regarding U.S. Secretary of State Hillary Clinton's statement about the December protests in Moscow. And the White House understands this. Besides, Putin himself wants to be seen as tough leader toward the U.S. It's his priority before the upcoming presidential campaign."
Regarding the Jackson-Vanik amendment, Russian and American experts point out the urgent need to scrap the amendment as an outdated Cold War relic.
"I already stated many times that continuing application of Jackson-Vanik Amendment to Russia is both, immoral and, moreover, illegal as Russia fulfilled all its obligations under original Jackson-Vanik amendment requirements over 20 years ago," said Edward Lozansky, the president and founder of the American University in Moscow. "Congressional rejection of Russia's graduation from the amendment is a sad proof that politics takes precedent and triumphs over sound policy."
Lozansky is doubtful about Lavrov's ultimatums. "Taking into account that the U.S. business community is interested in resolving this case as soon as possible, a wise PR campaign in Washington may lead to better results," he said.
Hahn also describes the amendment as "truly a Cold War relic" that needs to be removed. "I think the Russians, have overreacted here, but the overreaction in this case is understandable," he said. "I can perhaps understand the threat to refrain from compliance with WTO stipulations in trade relations with the U.S. as a retaliatory move. The threat to interfere with American business in Russia seems to go outside a legal framework in accordance with WTO obligations and go beyond a tit-for-tat response."
Feifer also questions the effectiveness of such a strategy. He believes that Moscow's tough rhetoric may complicate the process of lifting the Jackson-Vanik amendment. Supporters of the amendment may find a good reason to keep imposing economic sanctions in Lavrov's comments.
When asked why the U.S. has dragged its feet in dropping the amendment, Hahn said that some U.S. politicians have never got over the Cold War and still equate Russia with the Soviet Union. "Presidential leadership has been lacking as well," Hahn said, "because no U.S. President since Ronald Reagan has a had a strategic vision, not less had one that includes an understanding of the importance of integrating Russia into the West or at least making it an important ally of the West and the U.S. on fundamental issues."
Minchenko echoed this view. "The U.S. is too reluctant to drop the Jackson-Vanik amendment because a lot of American politicians made their careers on it," he said. "Now this document has evolved into an element of a PR campaign."
All rights reserved by Rossiyskaya Gazeta.